"Extravaganza Arcade Goes Cashless with Semnox Solutions"
Extravaganza Arcade Goes Cashless with Semnox Solutions
Arcade Implements State of the Art Technology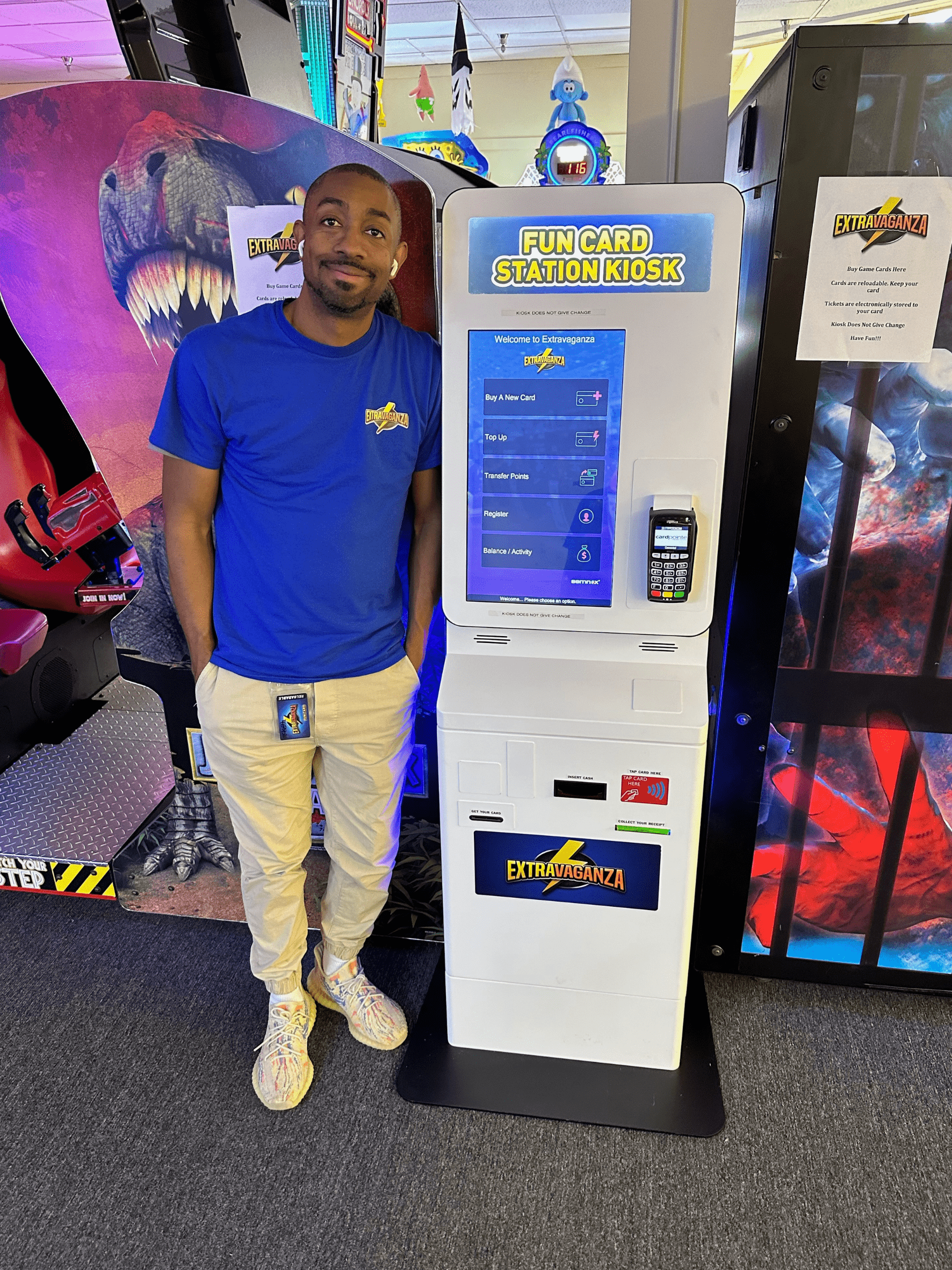 Greenville, NC – Extravaganza Arcade has recently modernized its facility from being a coin- operated game room to becoming a state-of-the-art arcade featuring the latest technology in arcade gaming. Located in the Greenville Mall, Extravaganza Arcade now uses Semnox's Parafait suite of solutions to help better manage and automate key processes while offering a better user experience for its guests.
Until recently, McKeith Myrick, Extravaganza's owner and operator, ran the arcade the old-school way with coin-operated and ticket redemption games. Since investing in a new Semnox's Parafait POS system and redemption management, tap-to-play LUMIN and EDGE RFID readers, and Parafait's KLASSIC self-service Kiosk, its entire operation and customer service have improved.
"During busy days when you have coin and ticket jams, it just made things stressful," says Myrick.
"Having a card system eliminates that and also makes the customer have a better experience overall."
"The POS system is very user-friendly," explains Myrick. "The reader design is nice and colorful, and I loved the fact they were already using RFID technology which saves on the magstripe being worn out from the other companies' readers. The other important factor, which was a major part of my decision, was the customer service from the Semnox sales representatives and the support team – it's outstanding."
Semnox offers technology solutions for all size operations, from one-unit location to large, multi- unit clients. With a global presence in over 55 countries, Semnox Solution prides itself on top- notch customer service. "No matter the size of the operation, our clients tell us that Semnox support is unparalleled in the industry, says Bepin Jose, President of Semnox Americas. "We pride ourselves on our effective customer support processes that have been very effective."
Extravaganza customer service has also improved from transitioning to the Parafait self-service kiosk and RFID readers because they are easy to use, offer up-selling features, and reduce lines at the ticket counter. Customers can also purchase RFID arcade cards from the self-service kiosk, check account balances and recharge accounts, too, with maximum efficiency and minimal involvement from staff.
"Customers love the system and how easy it is to use the kiosk. Plus, they are spending more money than they did before with less complaints, too, since there are no more coin or ticket jams," continues Myrick. "Labor is down, managing redemption inventory is a breeze and it [Semnox's Parafait technology solutions] was everything I expected and was looking for."
About Semnox
Semnox Solutions LLC (https://www.semnox.com) provides technology and creative solutions for the entertainment and amusement industry. Semnox's Parafait suite of products is operational at over 2000 sites spread across 550-plus countries.
About Extravaganza
Extravaganza is a new way to shop and have fun! Located in the Greenville Mall in North Carolina, Extravaganza brings you the latest arcade games with reloadable cards to earn points and redeem prizes you will love. We provide custom gaming console controllers for purchase, superior quality cleanliness, and 40-plus arcade games for all ages.