Semnox Immerses its Solutions in New Virtual Reality Center
Semnox Immerses its Solutions in New Virtual Reality Center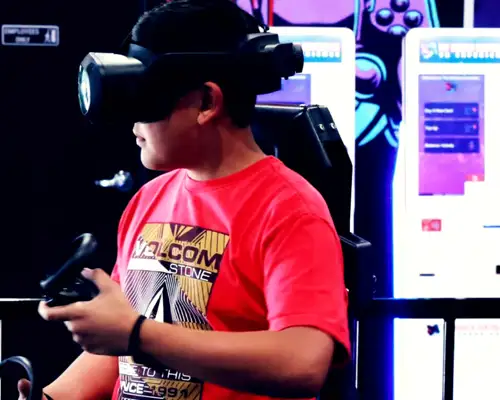 Broken Controller VR Experiences Opens With Integrated Venue Management

Semnox Solutions, a global leader in providing innovative technology solutions for the entertainment and leisure industry, successfully implemented its state-of-the-art venue management solutions at the newly launched Broken Controller VR Experience in Fresno, California.
Broken Controller is a next-generation, premier destination gaming center that offers a variety of immersive gaming adventures like an arena scale VR experience, Hero Zone VR experience, motion racing simulators, and an augmented reality climbing wall. Working alongside Reboot Imagine's consultant team for installation, Semnox was able to seamlessly integrate its solutions ensuring optimal liability waiver management, access control, cashless transactions and timed slot booking management.
"We really enjoyed working with Semnox," said Laura Piza, Consultant at Reboot Imagine. "They were right there with us with 24 hours support routing various components during the installation process. As we worked through the configurations, we were able to get the best outcome for the client."
The installation with VR gaming at Broken Controller enhances operational efficiency and minimizes congestion while providing real-time data insights. This holistic ecosystem of solutions creates an enhanced interaction by providing multiple transaction sites with self- service kiosks for attraction booking, barcode wristbands for gaming access, and XCESS Readers for capacity management.
"The Semnox system has been a phenomenal success not just for the customers but for our team members as well," said Abraham Macias, owner of Broken Controller. "Attaching an electronic waiver to the POS system has guests signing waivers in no time at all. The system itself being all tied together makes it easier for us to troubleshoot, too. If one of our machines is running into technical issues, we're notified and can normally fix it from the computer itself."
The collaboration between Semnox Solutions, Reboot Imagine and Broken Controller signifies a game-changing approach to venue management and immersive entertainment. By seamlessly integrating cutting-edge solutions to ease operations, all parties are setting new industry benchmarks and delivering unparalleled experiences to guests.
About Semnox
Semnox Solutions provides creative technology and holistic solutions for the entertainment and amusement industry. Semnox is celebrating 15 years of innovation in the industry with operations at over 2000 sites spread across 55+ countries.
About Broken Controller
Broken Controller is a virtual reality experience that redefines the boundaries of gaming and entertainment through the immersive power of VR and AR promoting a unique blend of fun and fitness. From group VR challenges to solo adventures that offer enhanced well-being and build community, with a broad range of experiences to captivate all ages, interests, and skill levels.