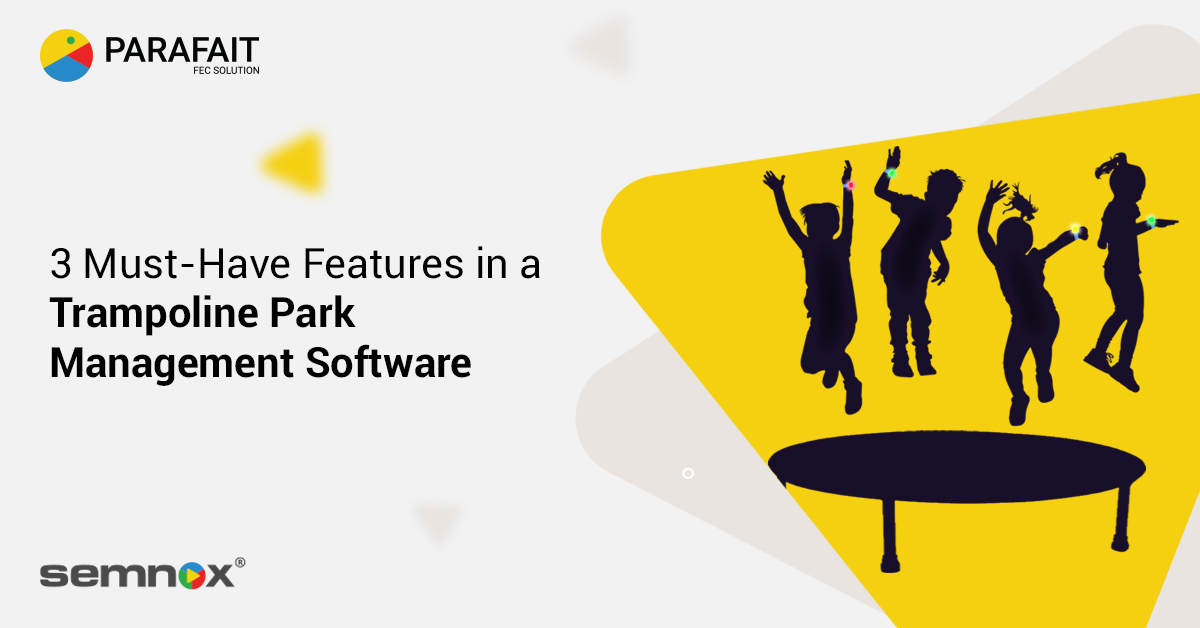 3 Must-Have Features in a Trampoline Park Management Software
3 Must-Have Features in a Trampoline Park Management Software
Having the right software in place to manage a trampoline park can simplify the process for owners, reduce the burden on staff, and ensure a safe and enjoyable experience for visiting guests. But identifying the right trampoline park management software for your venue can feel like a daunting task!
While there are several features that can be considered necessary, 3 are absolutely essential — online and onsite slot booking, timekeeping, and Customer Relationship Management (CRM). If your trampoline park software doesn't have these features, then you aren't getting the best solution!
To help you make an informed decision, let's cover these 3 features in detail.
Integrated Online & Onsite Slot Booking
The first thing to look for is an integrated trampoline Park POS and ticketing software. You can also add self-service kiosks into the mix. This gives your guests the option to make slot bookings online as well as once they get to your venue. And when they are integrated, you get real-time visibility on the bookings, and the chances of double bookings get nullified. An integrated slot booking system also helps with better capacity management.
Online Slot Booking:

This module allows online visitors to make slot bookings on their laptops, desktops, or mobile phones. The clean, intuitive interface coupled with secure payments can make the booking process convenient and seamless for guests.
Onsite Point-of-Sale:

The POS counter at your trampoline park shouldn't be a bottleneck where queues buildup. And the POS system plays a big role in this — the speed at which cashiers can process transactions is critical. This is shaped by the ease of navigating between different screens and the intuitiveness of the interface. The staff should be able to easily upsell and cross-sell products to customers based on their past behavior.

Self-Service Kiosks

: Deploying self-service kiosks at your venue can be beneficial in many ways. Guests can skip interacting with the staff and make purchases by themselves. The Parafait range of kiosks, for example, comes with an easy-to-use interface and multi-lingual support.
Your slot booking system should also have the option for you to create combos that include entry as well as food and beverage options, offering guests the best value for money.
Trampoline parks have a unique need for timekeeping solutions to enable timed jump sessions for guests. While you can opt for a human timekeeper, it's much easier to go with automated timekeeping solutions. Let's take a look at that next.
2: Automated Timekeeping Solutions
Automated Timekeeping Solutions
An RFID wristband that can notify guests with light and vibration patterns when their allocated time is up can help skip the need for a human timekeeper altogether. The Parafait Radian wristband is one such solution that amps up the 'cool' factor at your venue, while also simplifying time management.
The Radian wristband is lightweight, robust, and durable. It has an LED bezel with software-controlled patterns that can be pre-defined by operators using the Parafait Web Management Studio (WMS) or Parafait POS applications.

The band makes the check-in and check-out process seamless:
The guest taps the wristband on an RFID reader at the entrance to check-in to the jump area.
The band can be configured to buzz and light up in different patterns at half-time, when there are just 5 minutes left, or when the time is over.
To check out, the guest has to tap the wristband on the reader once again and end the session!
The third component to look for in a trampoline park management software is a comprehensive Customer Relationship Management system.
Customer Relationship Management Solutions
An effective CRM software can help you make your trampoline park the go-to entertainment destination for guests in and around the neighborhood! By unlocking actionable insights from guest behavior, it can tease out their needs and preferences. This way, you will be able to consistently roll out offers and promotions that are exactly what your guests will be looking for!
An effective CRM software for trampoline parks must have the following modules:
Campaign Management Module:

This module enables the creation of marketing campaigns for different target audiences of guests. The targeted nature of these campaigns ensures you get the best results for your efforts.


Promotions Module:

The module helps you create and roll out time-bound offers, discounts, and gift vouchers that act as an incentive for your guests to visit your trampoline park more often!
Membership Module:

To show your most regular guests that you value them and to make them feel more privileged, you can create a VIP tier with this module, offering exclusive savings and promotions.


Loyalty Engine:

This engine offers a great way to reward your guests for their loyalty to your venue! You can set it up so that the loyalty points accumulate over time and can be redeemed for purchases at your trampoline park.
The messages of these offers and promotions can be sent to guests via text, email, WhatsApp, or social media — communicating with them on their preferred medium.
Parafait — The Complete Trampoline Park Management Software
When it comes to trampoline park software, Parafait from Semnox is second to none! This comprehensive solution comes with all the features listed above — integrated online & onsite slot booking, automated timekeeping, a 360° CRM solution — and much more!
Are you looking to upgrade your trampoline park or launch a new venue? Then reach out to us at sales@semnox.com or call us right away!