Semnox Brings Technology Solutions to Sir Goony's Fun Zone 
Semnox Brings Technology Solutions to Sir Goony's Fun Zone
Chattanooga's Premier Family Fun Center Now Providing Better Customer Experiences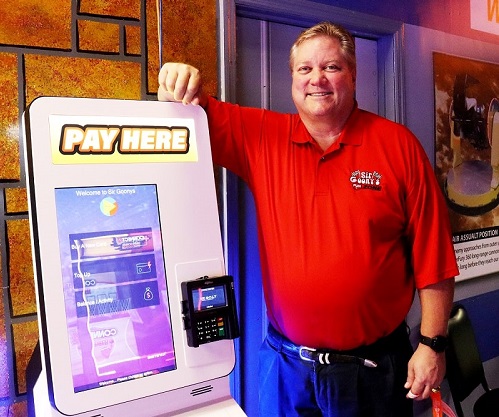 Dallas, TX – Sir Goony's Fun Zone is the newest addition to Semnox's growing list of clients. This Chattanooga, Tennessee family entertainment center who has been providing family entertainment for over 60 years has invested in a Semnox POS system, a swipe card system, and self-service kiosk.
"We could not be happier to have Dutch Magrath & his Sir Goony's FEC as part of our ever-growing Semnox family," said Brian Duke, Senior Sales Partner for The Americas.
Sir Goony's new Semnox technology solutions will not only help increase customer throughput and satisfaction, but the more robust system incorporates all of Sir Goony's attractions.
"Before we invested in Semnox's Parafait system, our self-service kiosk only allowed cash to be put on cards for arcade game use," explains Dutch Magrath III, president of Sir Goony's. "We have many attractions, multi-attraction purchases, 2-hour unlimited options, and many other options that now can all be done on our Semnox kiosk," continues Magrath. "Customers even use the kiosk to produce cards from online purchases using a QR code scanner. A customer can reserve a time and purchase attractions online and then get the cards at the kiosk when they arrive without waiting in line at the counter. We are finally catching up to what theaters have done for years!"
The Parafait self-service kiosk also allows guests to purchase RFID cards, check account balances, and recharge their accounts — all with maximum efficiency and zero involvement of staff.
Sir Goony's also specializes in birthday party celebrations. With the Semnox Parafait system, Sir Goony's now has a seamless online booking system. When a reservation and payment is made on the Semnox system, it integrates with the POS system. This helps avoid double scheduling the same slots.
"Before Semnox, our previous supplier promised this from day one, but it was never properly supplied, says Magrath. "We finally had to have a programmer write our own party scheduler which we had to manually download into the location's system, which was tedious and time-consuming. Semnox is the only provider we found that could do this flawlessly!"
With Parafait's Party Booking Software from Semnox, it is quick and simple for guests to check available slots, reserve party halls, make group bookings, customize and schedule their bookings, and make secure online payments through credit card or Paypal.
"It is good to see that Sir Goony's is now able to extract the power of the single integrated venue management system that makes it easy for operators to manage everything from a single system," explains Bepin Jose, President of Semnox Americas. "Parafait Party Booking Software not only makes easier to book, but being integrated allows the operators to manage, book and plan and execute all in one place, with ease and is part of the day-to-day operations."
Magrath's experience working with different POS systems throughout the decades isn't limited to the Sir Goony's establishment. He is also the president of Amusement Products, LLC., a company that sells attractions to other family entertainment centers throughout the country including electric go-karts, VR arenas, batting cages, bumper cars and more. His customers have used a variety of technology systems who have shared their experiences, and a lot of complaints are regarding customer service, or lack thereof.
"All POS/Swipe card system providers charge monthly software use and phone tech support," continues Magrath. "Semnox is a breath of fresh air! They take calls, work quickly to solve issues, and follow up to make sure all problems are resolved. My previous provider charged more for monthly service, never responded to calls, and typically left problems uncorrected. By the time of the switch, more than half of our readers were not operational and the previous provider refused to repair or sell us replacement readers. Semnox's tech support is great, and the installation was a very pleasant experience. We are very happy with our choice of Semnox as our POS/TAP Card supplier!"
Sir Goony's features all of the top-rated attractions that Amusement Products manufactures and distributes. "It's great that Dutch decided to upgrade from his previous system to now showcase Semnox's Parafait system and its capabilities to all of his customers," explains Duke. "Plus, Amusement Products hosts FEC Success Institute twice a year at his facility, and this demonstrates our solid partnership and ability to deliver the best for his attendees as well." FEC Success Institute is the family entertainment center industry's longest-running educational seminar that covers a variety of topics to educate both new and existing FEC operators.
About Sir Goony's
Sir Goony's is premier family entertainment center in Chattanooga, dedicated to providing a pleasant, safe, and clean space that everyone will enjoy. Sir Goony's has fun for everyone! With a wide variety of attractions and activities, there is truly something for everyone when you visit Sir Goony's.
About Semnox
Semnox Solutions LLC (https://www.semnox.com) provides technology and creative solutions for the entertainment and amusement industry. Semnox's Parafait suite of products are operational at over 2000 sites spread across 50 plus countries.
About Parafait FEC Solution
Semnox's flagship solution – Parafait allows users to automate processes, giving greater control over operations, and delivering a delightful guest experience by leveraging the diverse functionalities of the platform. Semnox's FEC and cashless offerings include Wireless debit cards and readers, POS, Inventory and Redemption, Waivers, Self Service Kiosks, Party Booking, Lockers, Food & Beverage Sales, Customer App, Digital Signage and more.