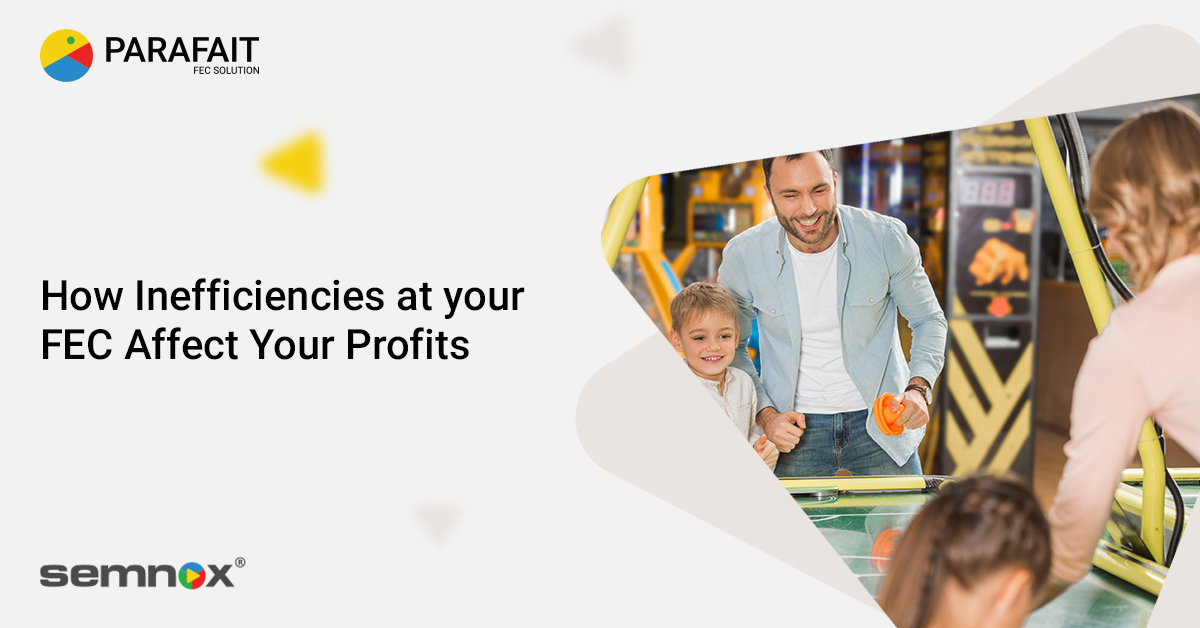 How Inefficiencies at your FEC Affect Your Profits
How Inefficiencies at your FEC Affect Your Profits
Inflation will never cease to exist in its entirety, so it's more important than ever to focus on your profit margins as a Family Entertainment Center owner and/or manager. Addressing the inefficiencies in your FEC operations is a surefire way to diminish those profit losses. We're here to help you point out inefficiencies in your arcade and FEC operations that you might not even be aware of, and how to manage them.
Staffing Shortages Decreases Customer Satisfaction
Customer experience is expected to be the biggest priority for the majority of businesses in the next few years, due to the trend of consumer loyalty no longer focusing on products or prices. If your guests experience delays in assistance at your arcade due to a lack of employees, they will grow impatient, and be less likely to return, as they will visit one of your competitors instead. To counter the staffing issues felt across the nation, it can be beneficial to implement self-serving technology systems, like Parafait's kiosks and redemption kiosks, to allow guests to navigate in their own time.
Happier guests are linked to increased spending, higher loyalty, and an increased chance of word-of-mouth marketing – we call that a win-win!
Your Insights Give Unactionable Data
Conducting business without reports and insights is like jumping into the deep end, but receiving insights without any clue of what to do with them isn't much better. Much time and money can be wasted on marketing and business efforts without knowing how effective or popular guests actually find them.
Being able to see reports and trend data by categories like guest type, geography, day of the week, and revenue generators all in the simple-to-read bar and pie charts will give you customized and relevant suggestions to help facilitate your arcade management and operations.
With the option to access this data from the palm of your hand on iOS and Android devices through the BizInsights Mobile App, or from a dashboard at your indoor entertainment venue, there will be no more questions on key metrics.
Related: Key Updates to Parafait's Family Entertainment Center Solutions with Fireball 2.130.0
Expired Inventory Adds Up
It feels bad enough when you notice wilted lettuce or other overripe vegetables in your own home but think of the profits lost when that happens to a larger-scale establishment. Family entertainment centers understand that providing food options on-site will keep their customers longer because they won't have to leave when their hunger cues signal after a long day of playing. If managed correctly, it can become a revenue booster, but when inventory is managed poorly, it can become detrimental.
Having a recipe management system, like eZeeInventory, makes it possible to forecast and plan for future sales, and manage your food and beverage stock with suggestions based on your facility's sales data trends—giving you more accuracy and less waste!
Overview

By streamlining your family entertainment center solutions, you'll be well on your way to limiting your attraction's operating inefficiencies and increasing your gross profit margin. Parafait is Semnox's one-stop solution for your entertainment management software needs. Our solutions cover all the bases, ranging from attraction booking software to waiver management, and more.
We're the world leader in holistic technology solutions for the entertainment and leisure industry, trusted by dozens of attractions around the world.
Related: Upcoming Trends of RFID Card Readers for Arcades in 2023!

Contact us to inquire about our solutions today.