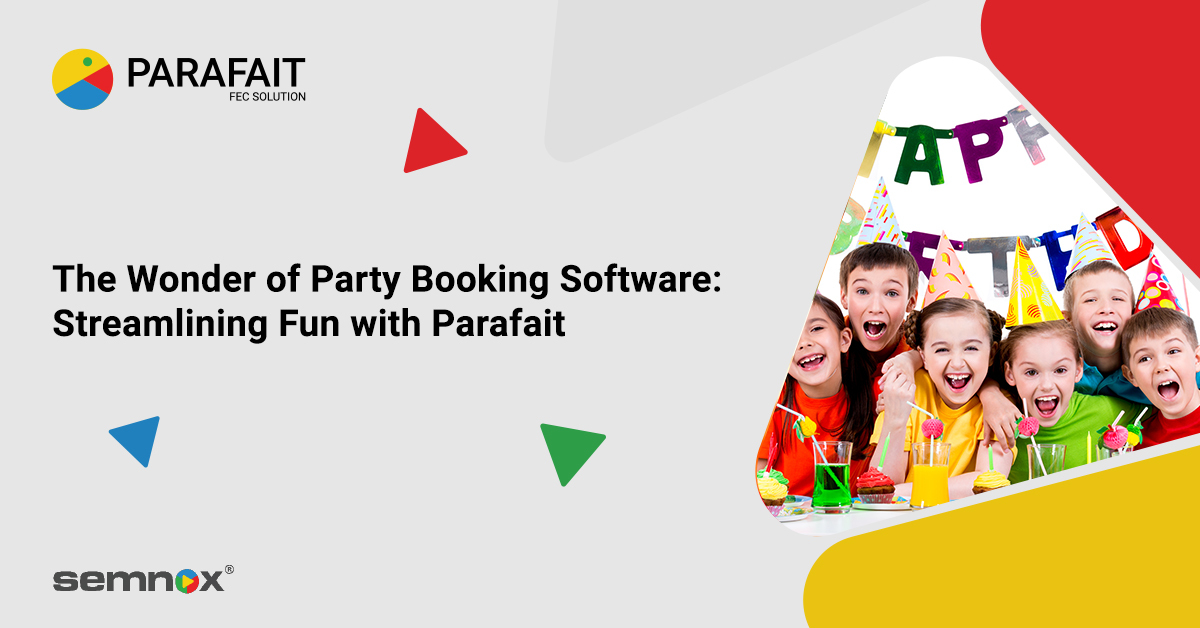 The Wonder of Party Booking Software: Streamlining Fun with Parafait
The Wonder of Party Booking Software: Streamlining Fun with Parafait
When it comes to planning and hosting parties and events, the logistics can be overwhelming. From managing reservations and customer guest lists to ensuring a smooth check-in process, there's a lot to handle. But fear not, for there's a superhero in the world of event management, and it goes by the name of Parafait Party Booking Software. In the world of event management and party planning, staying ahead of the curve is crucial to success. As venues compete to offer the best experiences to their guests, efficient and user-friendly party booking software has become an essential tool. With Parafait, you can simplify the process, empower your staff, and drive revenue creation like never before.
The Comprehensive Party & Event Booking Software
Anyone who has ever organized a party, whether it's a child's birthday bash or a corporate event, knows that the devil is in the details. Coordinating various aspects like invitations, RSVPs, decorations, catering, and entertainment can be a daunting task. And let's not forget about managing the financial aspects, such as pricing, invoicing, and payment processing. Without the right tools, this can quickly turn into a logistical nightmare.
Semnox's Parafait Party Booking Software is designed to streamline the booking process. It's like having a dedicated event planner at your fingertips 24/7. It offers a range of features that make it quick and simple for your guests to check available slots, reserve party halls, make group bookings, customize, and schedule their bookings, and make secure online payments. The best part? They can do all of this from any device of their choice, with minimum clicks or taps.Here's how it works: Seamless Online Booking: Gone are the days of endless phone calls and emails to book a party. With Semnox's Party Booking Software, customers can easily browse available dates and packages, select their preferences, and make reservations online. This not only enhances the customer experience but also reduces the workload for your staff. Customization Galore: Every party is unique, and your booking software should reflect that. Semnox's solution allows you to customize party packages, add-ons, and pricing to suit your venue's specific offerings. Whether it's choosing the perfect decorations or selecting the ideal menu, the software adapts to your needs. Integrated Payment Processing: Collecting payments has never been easier. With integrated payment processing, your customers can securely pay for their reservations online. No more chasing down checks or handling cash – everything is handled digitally, ensuring accuracy and security.Real-time Availability: Avoid double bookings and ensure a smooth flow of events with real-time availability updates. The software shows your staff and customers which time slots are available, reducing the risk of overbooking and ensuring optimal use of your party spaces.Reporting and Analytics: Knowledge is power. With robust reporting and analytics features, Semnox's Party Booking Software provides valuable insights into your party business. Track sales, customer behavior, and popular party packages to make data-driven decisions and optimize your offerings. Streamlined Communication: Effective communication is key to a successful event. The software allows you to send automated reminders, updates, and thank-you notes to your customers, keeping them informed and engaged throughout the party planning process."Before the [Semnox] updates, guests would have to inquire about a specific date by email or phone, and if it wasn't available, we would have to call them and reschedule and then take a deposit over the phone. It was a lot of back and forth. Now, birthday parties are a big source of revenue for us. We host anywhere from 40-45 parties every weekend." – Erik Brouwer, co-owner of EnergyPlex Entertainment Center in Kelowna, British Columbia.
Benefits of Party Booking Software
The benefits are endless. Especially heading into the off-season. Events, parties, and group bookings can become a huge source of revenue, and party booking software allows operators to provide:
Multiple Sales Channels
Offer Combo Packages
Easy Rescheduling
Real-Time Sync
Secure Payments
One of the key advantages of Parafait is its multi-channel sales options and ability to offer combo packages. Venue operators can now expand their income sources by selling products through both the Parafait Web app and the POS system. This means you can maximize your revenue by offering not just party bookings but also related combo products and services to your customers, giving them a one-stop solution for all their party planning needs.The President of Monster Mini Golf, Chris King saw firsthand how the Semnox System improved the overall business structure, "Our operators were using several POS Systems as well as various 3rd party applications to operate their centers. The Semnox system provided an all-in-one system that brought us all together and incorporated new tools such as online booking/reservations and e-commerce."So don't just take our word for it. Plans change, and Parafait understands that. Venue operators can reschedule bookings based on the availability of slots, and they also have the flexibility to cancel or override a specific attraction within a reservation without canceling the entire booking. This level of flexibility ensures that both customers and operators are satisfied and helps avoid double bookings and scheduling conflicts with real-time synchronization, ensuring that your venue operates smoothly without any hiccups.
Why Choose the Parafait Party Booking System?
Semnox's Parafait Party Booking Software is a game-changer delivering a world-class experience to both venue operators and guests. It offers a comprehensive solution that simplifies booking, empowers staff, and drives revenue growth. If you want to take your venue to the next level, Party Booking Software is the way to go. With Parafait, increase:
Efficiency
Customer Satisfaction
Revenue
Data-driven Decisions
Scalability
Semnox Solutions is transforming the way businesses plan and host events. With its powerful features, customization options, and user-friendly interface, it's no wonder that more and more entertainment and leisure venues are turning to this innovative solution. Say goodbye to party planning headaches and hello to a smoother, more profitable future with Semnox's Party Booking Software. It's time to take your party business to the next level.