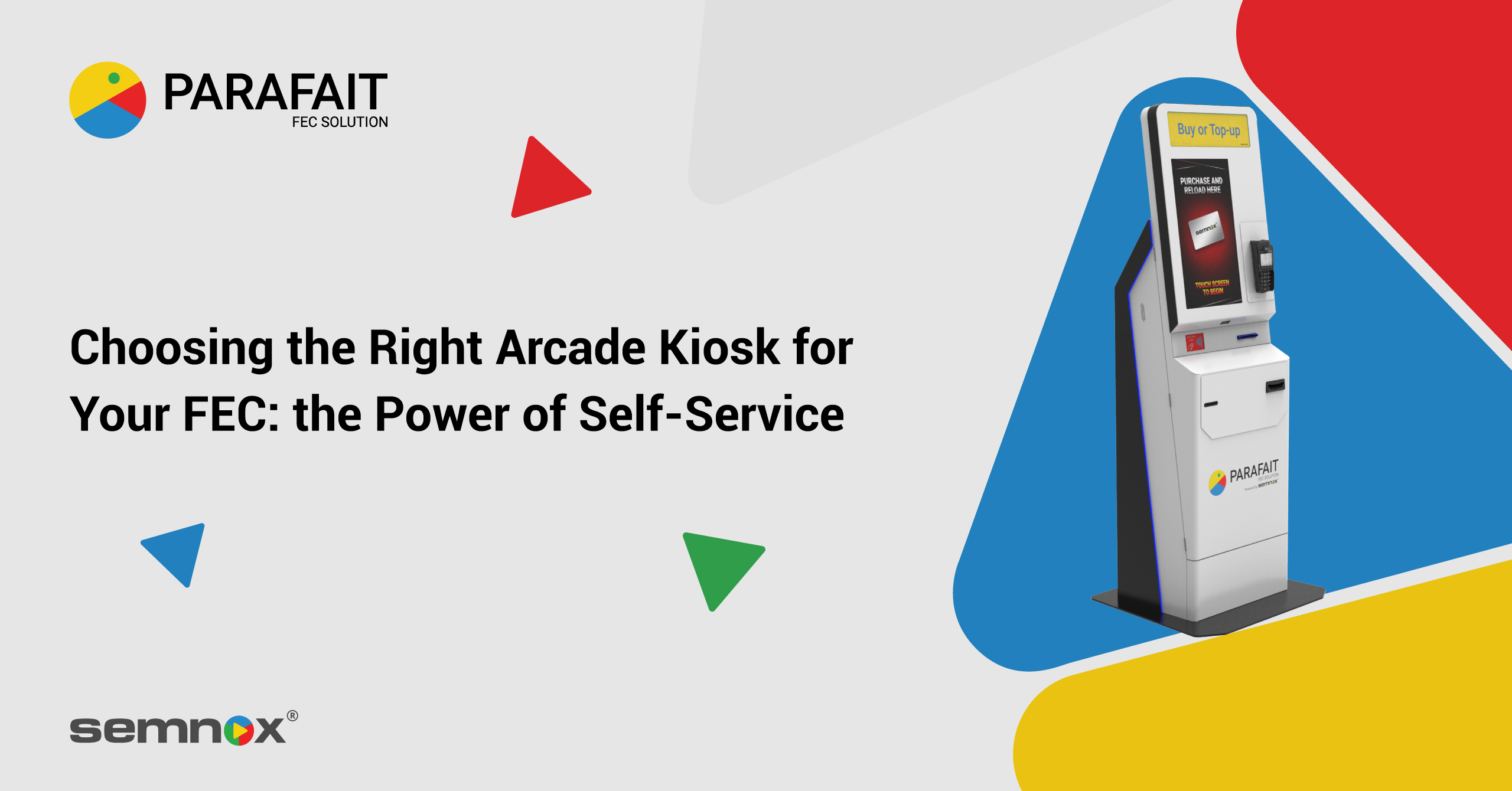 Choosing the Right Arcade Kiosk for Your FEC: the Power of Self-Service
Choosing the Right Arcade Kiosk for Your FEC: the Power of Self-Service
In the fast-paced world of Family Entertainment Centers (FECs), providing exceptional customer experiences is paramount. One way to achieve this is by incorporating state-of-the-art self-service kiosks into your arcade setup. If you are operating an arcade swipe card system already, then an arcade kiosk is guaranteed to enhance the guest experience as well as sales.
With Semnox Solutions leading the way in innovative self-service technology, we offer a range of arcade kiosks designed to elevate your FEC to new heights. 
In this blog, we will explore the benefits of self-service options, the importance of selecting the right arcade kiosk for your FEC, and highlight some of the top options available from Parafait, including the Klaimprize, Komplete, Klassic/Kulinary, Kinetick, and our newest Kompact kiosk.
Benefits of Self-Service Arcade Kiosks
Already operating a cashless card arcade system? Self-service kiosks can provide a variety of functions that can optimize your management system and can be implemented quickly with minimal setup time.
Kiosks can:
Complement cashless card arcade systems.
Increase customer convenience.
Reduce long lines at check-in.
Cut labor costs on staffing.
Automate key processes while offering a better self-driven experience.
Introduce upsell combo options and promo packages.
Speed up the redemption process.
Whether it's billing, issuing game cards, tracking engagement, or even redeeming game points for prizes, self-service arcade kiosks can make it fast and fun for you and your customers.  It helps you cross-sell or up-sell based on customer needs and it's a queue buster during peak hours. Learn all about the different benefits here.
The Klaimprize Redemption Prize Kiosk: Optimizing Prize Inventory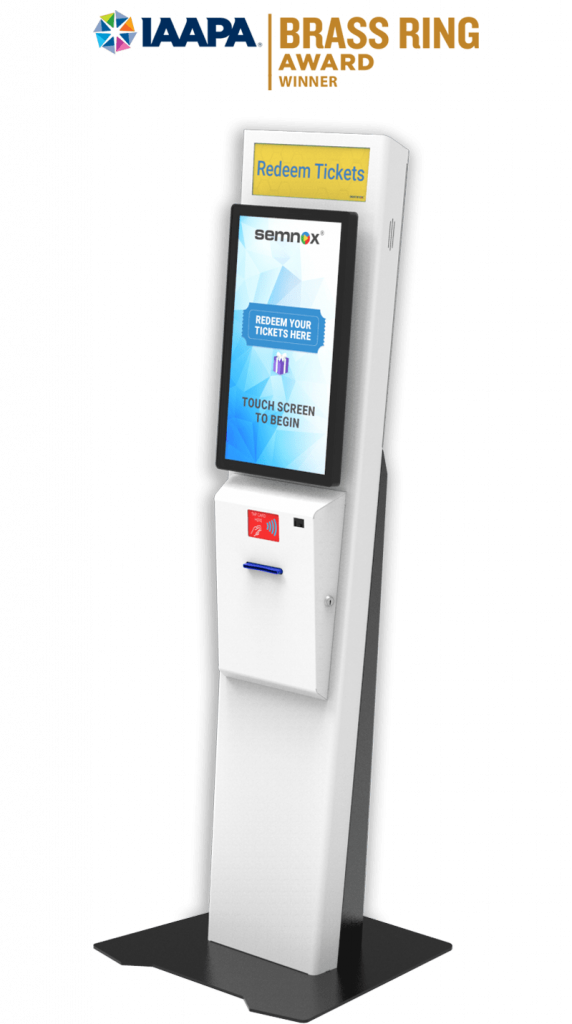 Managing a comprehensive prize inventory can be a challenge for FEC operators.  Our IAAPA Brass Ring Award Winner, the Klaimprize Redemption Kiosk, streamlines this process by providing an automated solution for guests to manage their redemption points and prize selection while offering operators tracking, and inventory management.
Guests can redeem gifts using play cards or manual ticket receipts, print receipts for confirmed redemption orders, consolidate tickets, print new tickets, and load consolidated tickets into a new play card. 
With real-time inventory updates, customers can conveniently select their desired prize, ensuring a seamless and efficient redemption experience. Mike Abecassis, the owner of GameTime Players, has had tremendous success with arcade kiosks.
"We had a positive shift in guest behavior when we implemented the self-service kiosks for game card purchases, so adding the redemption kiosks just made sense," explains Abecassis. "About 55% of redemptions have moved to the redemption kiosks, which removes the selection process and cuts back on staffing. We were able to really impact not only labor but the guest experience because it's a better self-driven experience."
The Komplete Self-Service Kiosk: Empowering Your Customers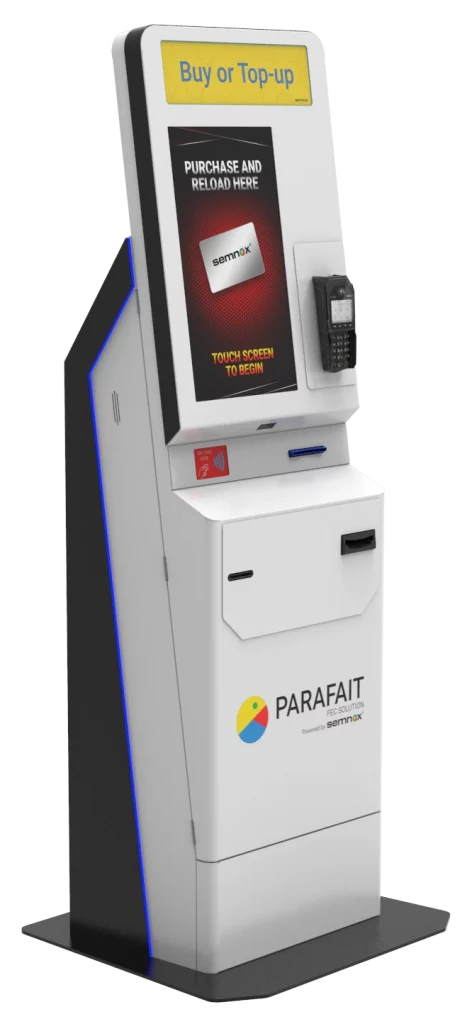 Enhance the overall customer experience with the Komplete Self-Service Kiosk. This intuitive and user-friendly kiosk allows patrons to easily purchase game cards and wristbands, reload arcade credits, and view their account balances. This self-contained unit with an in-built server is ideal for small businesses and remote locations and offers:
Elegant and intuitive touchscreen interface with a configurable menu.
A multilingual interface with speakers to play audio instructions. 
Payment methods in the form of notes, coins, or credit/debit cards.
By offering self-service capabilities, you empower customers to take control of their entertainment experience, reducing wait times and enhancing customer satisfaction.
The Klassic Self-Service Kiosks: Versatility and Functionality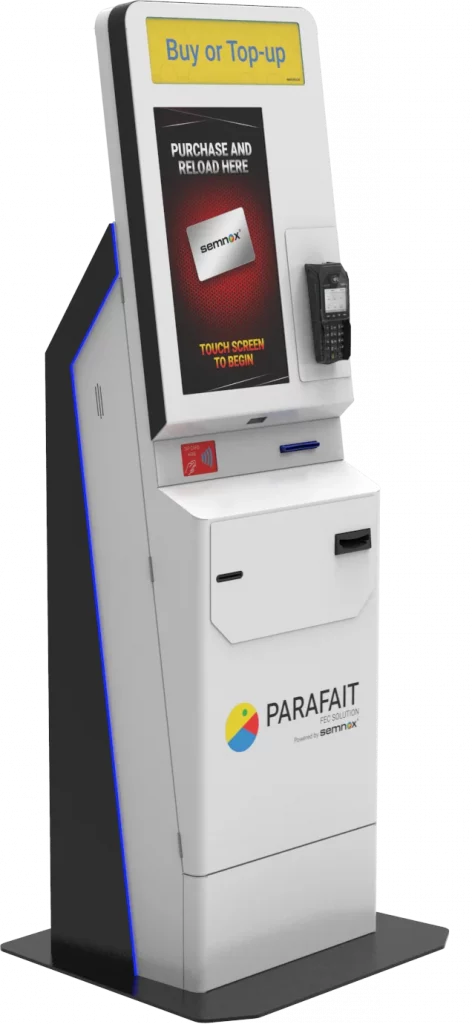 For FECs seeking a reliable and versatile self-service solution, the Klassic Self-Service Kiosks deliver exceptional functionality. This kiosk offers a wide range of features, including game card top-ups, balance transfers, and upsell features. It also supports new customer registrations and updates their profiles based on visits! It has:
A 22″ touch screen display
Easy-to-use graphic interface in multiple languages
Integration with credit cards in leading economies
Accepts paper currency and coins
Issues new cards and wristbands, even for online bookings
With its robust build quality and proven performance, the Klassic kiosks are a trusted choice for FEC operators worldwide.
"Customers love the system and how easy it is to use the kiosk. Plus, they are spending more money than they did before with fewer complaints, too. Labor is down, managing redemption inventory is a breeze and Semnox's Parafait solutions were everything I expected and looking for," says McKeith Myrick, Extravanganza Arcade owner and operator.
The Kinetick Kiosk: Cutting-Edge Interactive Experience
Incorporate the latest advancements in technology with the Kinetick Kiosk. This interactive self-service solution engages customers by issuing tickets in the form of RFID, barcode, or QR Code Tags and wristbands. In today's ever-growing fast-paced environment, it's important to be able to pivot and stay ahead of purchasing trends. This Kiosk does it all:
Supports new customer registrations and tag recharge.
Accepts paper currency and coins.
Supports waiver signing.
Interactive voice-based guidance system
Easy-to-use multilingual graphic interface
Accepts payments from credit cards in leading economies.
Offers up-selling features.
By creating an immersive experience, the Kinetick Kiosk captivates customers and encourages increased engagement, ultimately driving revenue for your FEC.
The Kompact Kiosk: Optimal Functionality at an Affordable Price
Semnox Solutions proudly introduces the Kompact Kiosk, the newest addition to our self-service kiosk lineup. With all the capabilities of the Klassic Kiosk, the Kompact Kiosk offers a smaller footprint and a more affordable price tag. Ideal for FECs looking to optimize space and budget without compromising on functionality, the Kompact Kiosk is a perfect blend of style and practicality. It can:
Dispense RFID cards.
Accept currency in the form of notes and debit/credit cards.
Check customer balance & purchase history.
Support customer registration
Top-up cards
Upsell and apply discount coupons.
Environmentally sustainable via emailed customer receipts
With its stylish design and enhanced functionality, this tabletop kiosk maintains the high standard of our other offerings while providing a mountable, greener concept taking up less space at your venue. To learn more about the Kompact kiosk, please contact us for your personalized demo here.  
Overview
Selecting the right arcade kiosk is a big decision for any FEC. Semnox Solutions understands the unique needs of FEC operators and offers a diverse range of self-service kiosks designed to elevate customer experiences while streamlining operations. Whether you need to optimize prize inventory with the Klaimprize Redemption Prize Kiosk, empower customers with the Komplete Self-Service Kiosk, or harness cutting-edge technology with the Kinetick Kiosk, Semnox has the perfect solution for you. And don't forget to explore our newest addition, the Kompact Kiosk, which provides optimal functionality at an affordable price. 
Transform your FEC today with Semnox Solutions' arcade kiosks, and unlock the power of self-service for your business.