Semnox Solutions Empowers The Zone and Kokomo Joe's Rolla
Semnox Solutions Empowers The Zone and Kokomo Joe's Rolla
Premier Family Fun Center Replaces Legacy Systems with All-in-one Holistic Venue Management.
Rolla, MO – Semnox Solutions, a leading provider of comprehensive software solutions for the entertainment and amusement industry, announces its successful migration of The Zone and Kokomo Joe's Family Fun Center in Rolla, Missouri, to its cutting-edge venue management system. This transition marks a significant achievement as Semnox replaces two legacy systems to streamline operations and enhance the guest experience.
The implementation of Semnox's comprehensive venue management software comes as part of a strategic initiative by FEC owners Eva and Justin Furse, to improve operational efficiency between these two locations, enhance customer engagement with a better self-driven experience, and facilitate seamless management of all aspects of the business with an all-in-one integrated solution.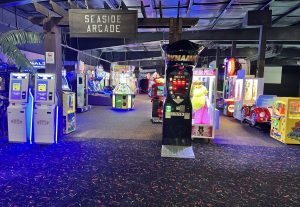 "We had been with two legacy systems for the last 10-12 years. It started out strong with relatively good integration for two companies but neither of them would take the lead," said Justin Furse, co-owner of The Zone and Kokomo Joe's Rolla. "As new players entered the market space, the lack of communication between our two software systems really pushed us to start looking at other companies. Semnox had done such a fantastic job with Kokomo Joe's in St. Peters, we were pleased to meet with them."
Semnox robust suite of features implemented at both locations includes e-commerce and ticketing, point of sale, self-service kiosks, cashless payments, tap-to-play functionality in the arcade with card roaming between locations, data reporting across all platforms, and inventory management with redemption.
"Working with Semnox has just gone seamlessly well. They brought in their people, and it was an almost perfect turnkey installation," added Justin. "We didn't lose any revenue and that just doesn't usually happen, especially when you're switching over to a new system."
About Semnox
Semnox Solutions is a leading provider of holistic technology-driven solutions for the entertainment and leisure industry. With a strong global presence in over 55+ countries and a diverse portfolio of successful deployments at over 2200+ sites, Semnox continues to be a trusted partner for amusement parks, FECs, waterparks, and entertainment venues worldwide.
About The Zone & Kokomo Joe's Rolla, MO
The Zone in Rolla, MO, is the area's premier indoor roller-skating complex that also offers a range of activities from laser tag and laser mazes to a full arcade, bounce areas, and an indoor jungle gym. Kokomo Joe's Rolla is an outdoor attractions park located only 5 minutes from the Zone, offering go-karting, miniature golf, a driving range, and batting cages.