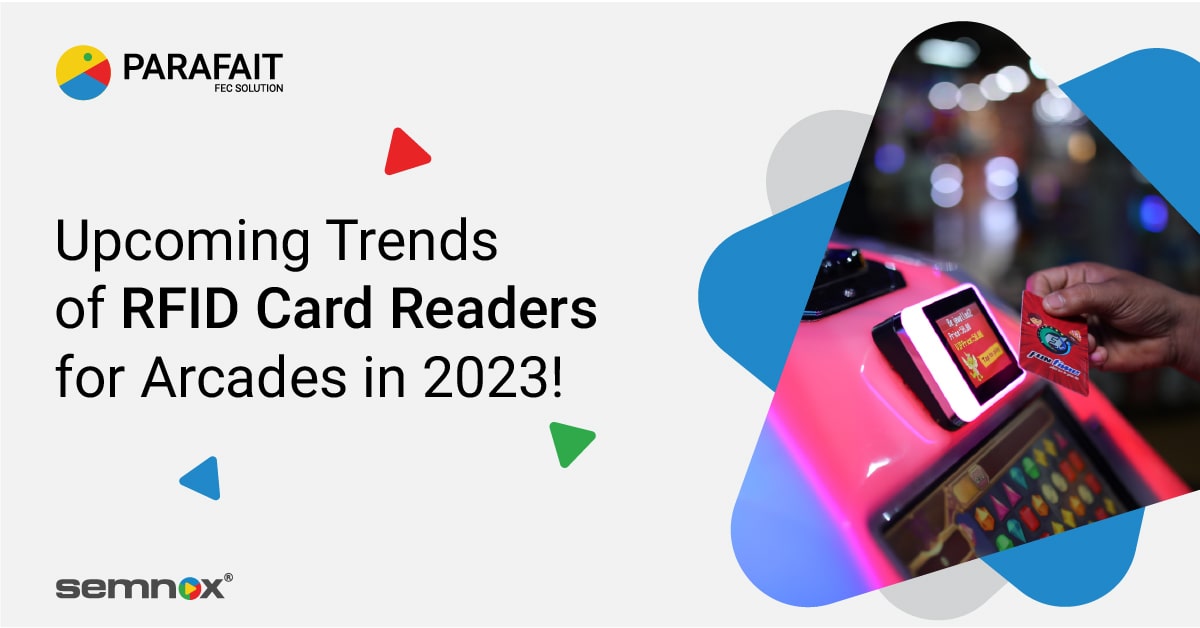 Upcoming Trends of RFID Card Readers for Arcades in 2023!
Upcoming Trends of RFID Card Readers for Arcades in 2023!
The RFID market has witnessed extremely high growth in the past years and only continues to expand across all market segments. It's gained an edge in the shifting global supply chain and has moved into tracking, healthcare, retail, and even the leisure and entertainment industries. But what does this technology have to do with your family entertainment center, amusement park, or theme park? EVERYTHING. As cashless solutions also gain popularity, it's essential to stay on top of the newest and most exciting RFID solutions and integrations out there, one of which is RFID card readers for arcades.
RFID card readers can be used for several purposes in arcades, such as tracking player progress and rewards, making purchases, and accessing games. We've outlined a few developments in the tech for 2023 below, and how RFID solutions paired with arcade center management software can improve your attraction venue.
Integration with Other Technology
From your POS system and card readers for arcade games to access control and self-service kiosks, RFID technology is the way of the future.
At Semnox, we specialize in providing RFID-based solutions for the leisure and entertainment industries. Our RFID card readers are designed to work in conjunction with other products, whether they're ours or others.
RFID Card Readers can integrate with many things around your facility, including:
Point of Sale (POS) System
Self-service Kiosks
Access Control Management
Inventory and Redemption Management System
CRM Solution
Analytics and Dashboards
Mobile Devices
"The ability for us to eliminate multiple systems by also replacing our legacy restaurant POS and our original arcade card reader system with Parafait was a huge benefit for us. In addition, Semnox's arcade card system is the best in the business from our experience. The Parafait RFID LUMIN readers are more reliable than the readers that we originally installed." said David Larson, Managing Partner of Accelerate Indoor Speedway and Autobahn Indoor Speedway.
RFID solutions in 2023 offer more than just arcade game card readers; their multifunctional technology can provide real-time management when paired with other solutions. Next, let's take a look at the different card readers available and how they are evolving
More Innovative Applications with RFID Card Readers
The right card reader for your arcade, paired with Parafait's suite of solutions, can really take your venue up a notch. Custom-branded RFID credentials are just one of many features that are beginning to take flight in 2023. It's not just the card reader anymore but the tag, card, or QR code that goes with it. It's interconnected solutions that incorporate various customizable features like brand logos, display colors, and multi-language support. You can have your guests quite literally wear your brand on their sleeves (or RFID wristbands) now. Card readers have also moved away from "swipe-to-play" cards. There's no more swiping needed, just tap and play!
Related: Key Updates to Parafait's Family Entertainment Center Solutions with Fireball 2.130.0
"We chose Semnox primarily because of their software capabilities and hardware design. The Lumin RFID reader is much more advanced compared to what we have seen in the industry. We are very pleased with the overall experience with Semnox, including their customer support. Parafait has the needed tools to optimize business operations and control pilferage." – Cesar Cañon, Co-Owner of Divertoys.
Semnox offers many different types of tags and debit card readers for arcades that surpass industry standards with OTA themes, firmware upgrades, and up-to-date features. Each of our available arcade card readers, with details, is listed below:
Lumin
Aside from its 256+ color combinations and 25+ customizable themes, the Lumin Debit Card Reader features multiple languages for display and audio, making it extremely inclusive, user-friendly, and an aesthetic dream.
Multi-language support
Senses the tap anywhere on the screen
FCC/CE certified
Beam Reader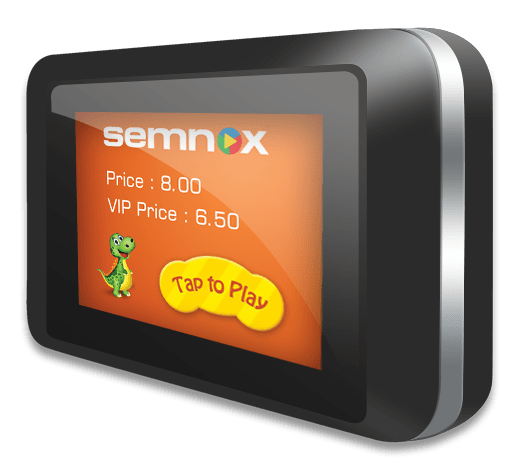 The Parafait Beam Reader is another ultra-sleek debit card reader that steals the show with its aesthetic qualities, a 3.5″ crisp, colorful display that supports animations, and its built-in multi-language support.
Wireless operations
Illuminating surface for easy indication
Senses the tap anywhere on the screen
LuminOS
Parafait's premier Linux-based debit card reader, LuminOS, is a state-of-the-art piece of technology with a 4.5'' widescreen display and dual-frequency (2.4 GHz and 5 GHz) support. It allows multi-gameplay, as well as OTA updates with a web-based server.
Interactive touchscreen
On-demand server communication for faster performance
Optional slotted reader for continuous play without scanning the card again
FCC, CE, BIS certified
Features of the RFID cards and wristbands include:
RFID tags are available as plastic arcade cards, ABS wristbands, key chains, tokens, stickers & more!
No swiping or holding is necessary — just tap and go!
Eco-friendly as they are highly durable & don't need to be replaced.
Customizable to your brand, so you can strengthen your presence
RFID tags can be used across multiple connected locations.
Easy readability even in tough ambient conditions
Our card readers support multiple RFID protocols including MIFARE, DESFire, and iCLASS. This allows them to work with a wide variety of RFID tags and cards.
Streamline the Guest Experience with RFID Solutions
The number one advantage of RFID technology in 2023 will be its flexibility and mobility. As cloud-based data storage becomes an integral part of tomorrow's RFID systems, there's greater use for RFID arcade game card readers than just "tap-to-play" functionality. You can track and analyze player behavior to improve the customer experience, offer loyalty programs, and increase revenue.
Coupled with our POS, online booking, self-service kiosks, or the SmartFun App, you can automate tracking, eliminate manual efforts, and up-sell based on customer needs.
"We have just scratched the surface of possibilities with the LuminOS," says Kiran Karanki, CEO of Semnox. "Having replicated the functionality of a regular reader on an OS-based reader, we are now discussing ways in which we can go beyond the current functionality with our customers." "We believe that LuminOS is the future of RFID readers."
FECs need to stay current with the latest trends in entertainment and gaming to attract and retain customers. Utilizing the latest RFID-based solution gives customers a reliable, easy-to-use option while having fun at your facility. Looking to upgrade your FEC, amusement park, or theme park with the latest RFID technology? Contact us today!