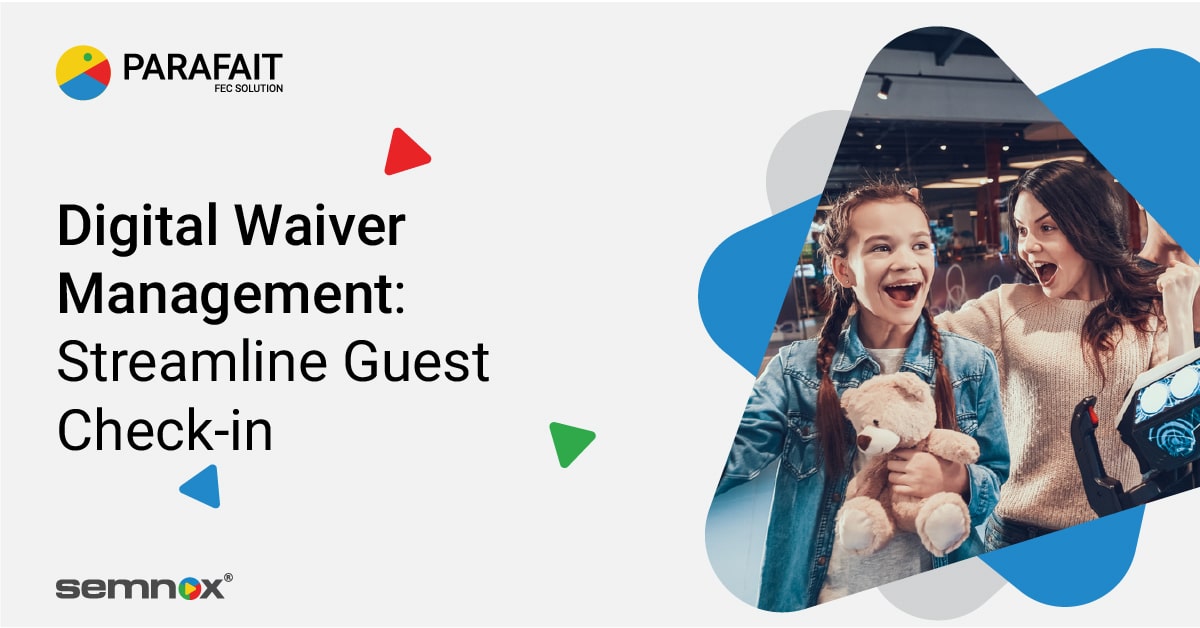 Digital Waiver Management: Streamline Guest Check-in
Digital Waiver Management: Streamline Guest Check-in
As the world continues to accelerate toward a more virtual domain, it's essential for the entertainment and leisure industries to keep pace with digital technologies at amusement parks, attractions, and family entertainment centers. Digital waiver management software is just one of several automated processes that Semnox can use to help operators manage their day-to-day operations more efficiently.
"Our search for the right system to manage the Kid's play area and the cafeteria ended with Semnox. "A simple-to-use system, easy metrics, and their extensive experience have helped in automating most of our work," said Ms. Alia Nabooda, Business Owner of Fiafia.
Digitizing the check-in process for guests coming into your venue is no different. From online purchases and bookings to liability waivers for attractions and activities, your customers want to cut through the legal paperwork and get to the fun stuff. But protecting your venue and staff is a must if you operate a trampoline park, a climbing attraction, or other physical activities that could lead to injuries.
Related: "Going digital makes the whole process of waiver management much simpler," says Umesh Prabhu — FEC Head for Semnox
Why Your Venue Needs Digital Waiver Management
Waivers are an essential part of venue operations. They protect you and your venue by reducing legal liabilities in case of any unfortunate incidents. But the process of waiver signing, and validation is a nuisance to what's supposed to be a fun-filled night out for your customers. Parafait Digital Waiver Management software eliminates the red tape and increases the value of the customer by managing waiver signing before the guests arrive.
"It's been a positive shift for the guest experience and our staff," said Alex, the operating manager at Kokomo Joes.
"Before we would get bogged down with all the signatures needed at check-in so the line would get super long, and guests would have to wait. Now, guests are more inclined to complete registration online prior to arrival. If they haven't yet, my staff is able to direct them more quickly and efficiently thanks to everything being digital."
Digital waiver software coupled with Semnox's self-service kiosks can take the customer experience to the next level. It also makes it easier to search, view, print, and export waivers as needed.
Related: 8 Advantages of Digital Waiver Management for Trampoline Parks
Go Digital
Guests visiting entertainment venues in a post-pandemic world are not only looking for paperless and contactless experiences but expect it. Digital waiver management with Parafait helps operators deliver this experience consistently. It makes the waiver signing process at your FEC quick, paperless, and secure.
"The flexible software capabilities of Semnox, as well as their All-In-One Komplete Kiosk, allowed us to save necessary space and provided a self-serve option for our customers, freeing up employees from selling cards and attractions," said the owner of Planet Lazer, Jenna Boyo.
With the option to sign waivers online or at a kiosk, operators can now streamline the guest check-in process. It reduces labor and frees up your employees, giving them more time on the floor. This also helps reduce the use of paper, making your venue eco-friendly and saving a lot of storage space.
What Waiver Management Software Can Do
With the Parafait digital waiver management software, guests can sign waivers online, at the POS, at self-serve kiosks, or even on handheld tablets. Signing a smart waiver is quick and convenient. Eliminate the paperwork, and let your customers spend less time on formalities and more time having fun.
Features
Integrated with the Online Booking and Party Booking modules
Manages waiver agreements for multiple attractions
Secure waivers online through your website, as well as onsite at the POS, mobile tablet, or self-service kiosk
Integrated with WACOM signature capture device at Point-of-Sale counters
Easy verification using a Reservation Code and One-Time Password
Fully digital — easy to search, view, print, and export as needed
Allows parents to sign on behalf of minor children online or onsite
Online waiver software supports multiple languages
Innovative waiver code concept in accordance with GDPR guidelines
The same waiver is valid across all connected entertainment venues
Ability to send waiver signing reminder emails for party attendees
"We had multiple different systems running before Semnox. Now, we're able to use one all-inclusive system that runs seamlessly from online purchases to party bookings to waiver signing and management," said Alex, operator manager at Kokomo Joes.
Are you looking for comprehensive waiver management solutions for your venue? Want to go contactless and paperless with digital waivers? Parafait is the perfect solution for you. Reach out to our representatives with your questions, and we'll get you started right away. Email us at sales@parafait.com or call us now!