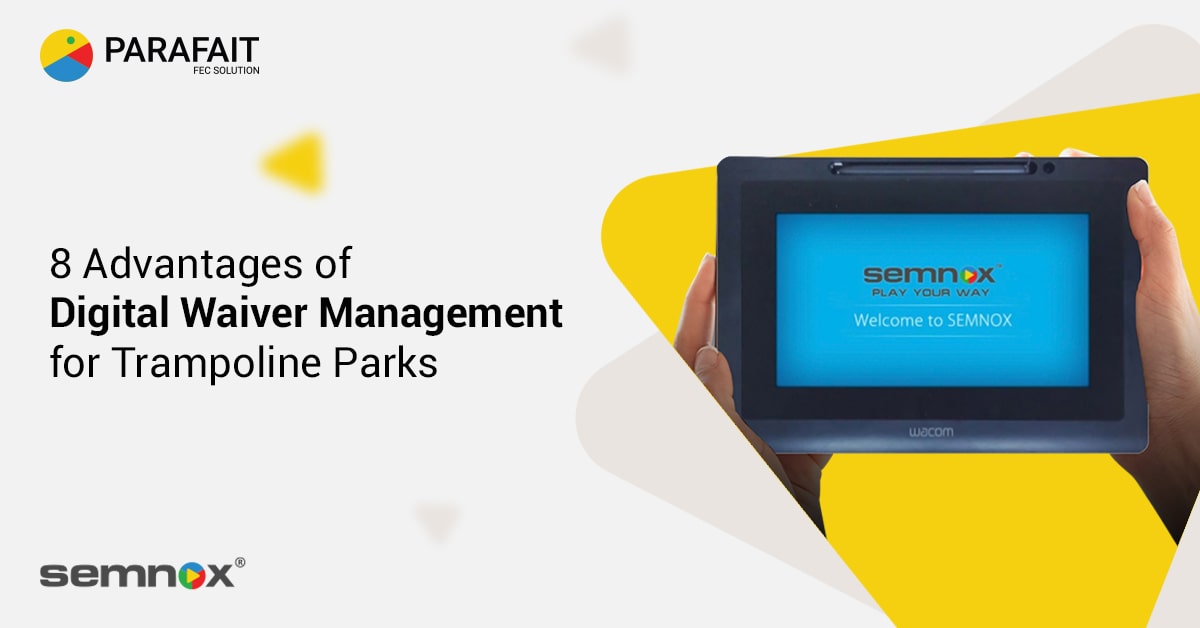 8 Advantages of Digital Waiver Management for Trampoline Parks
8 Advantages of Digital Waiver Management for Trampoline Parks
Once guests are at your venue, making them wait can be detrimental to their experience. They are paying to have a good time and they don't want to get stuck. But this is exactly what happens when they have to sign a waiver with a standalone waiver module or with paper-based legacy waiver management systems. The process is time-consuming and doesn't leave a good first impression on the guest.
Integrated digital waiver management solves this problem. It gives guests the freedom to sign waivers online, at a self-service kiosk, at the Point-of-Sale, or on a tablet carried by staff around the venue. The process of validating a signed waiver is also seamless while ensuring that the guest data is secure.
So if you are the operator of a trampoline park, skating rink, rock climbing area, or adventure activities that require waivers, then opting for integrated digital waiver management should be a no-brainer!
Modernized Digital Waiver Management Solution for FECs
The Parafait Waiver Management Module is just one module in the ecosystem of products and services that facilitate venue management. It communicates seamlessly with other modules, streamlining the process of signing, validating, and managing waivers. Here are 8 advantages that you can benefit from if you choose the Parafait digital waiver management solution:
Once-and-Done: Guests no longer have to sign multiple waivers for attractions at the same venue, since the waiver is linked to the particular guest and not the transaction. One waiver can cover multiple activities, saving both guests and operators a lot of time. The waivers are also valid across multiple connected locations.
Cut the Queues: Guests can sign waivers online even before they visit the venue. Or once they visit the venue, they can do so at a Parafait self-service kiosk. Best of all, your staff can meet your guests on the floor with a tablet and get the waiver signed there itself.
Integrated Party Bookings: Waiver management is now integrated with the Parafait Party Booking software. This means that the party host can send a link to the guests with the option to sign the waiver digitally. So when they visit the venue, they can go straight to having fun!
Easy Validation: Validating a signed waiver just requires the phone number or email address of the customer — it's that simple!
Enhanced Security: A 'waiver code' helps get the waiver validated without the staff viewing the customer's personal information. The staff can also use this waiver code to print, email, or deactivate a signed waiver.
Configured Signatures: The Parafait Waiver Management module allows operators to configure it as per local regulations — signatures can be collected only from the parent/guardian, or only from the minors, or from both.
Simplified Management: Going digital with waiver management means that your data is now easier to sort through and manage. The chance of mistakes is reduced significantly as well.
Eco-Friendly: With the elimination of paper from the equation, you are looking at a lot of trees saved. Oh, and you save a lot of storage space too!
Guests visiting entertainment venues in a post-pandemic world are looking for paperless and contactless experiences. Digital waiver management with Parafait helps operators deliver this experience consistently.
Waivers are an essential part of venue operations. They reduce legal liabilities in case of any untoward incidents. But the process of waiver signing and validation is a speed bump in the customer experience. Parafait Digital Waiver Management helps level out this speed bump significantly.
Are you looking for comprehensive waiver management solutions for your venue? Want to go contactless and paperless with digital waivers? Parafait is the perfect solution for you — reach out to our representatives with your questions and we'll get you started right away. Email us at sales@parafait.com or call us now!