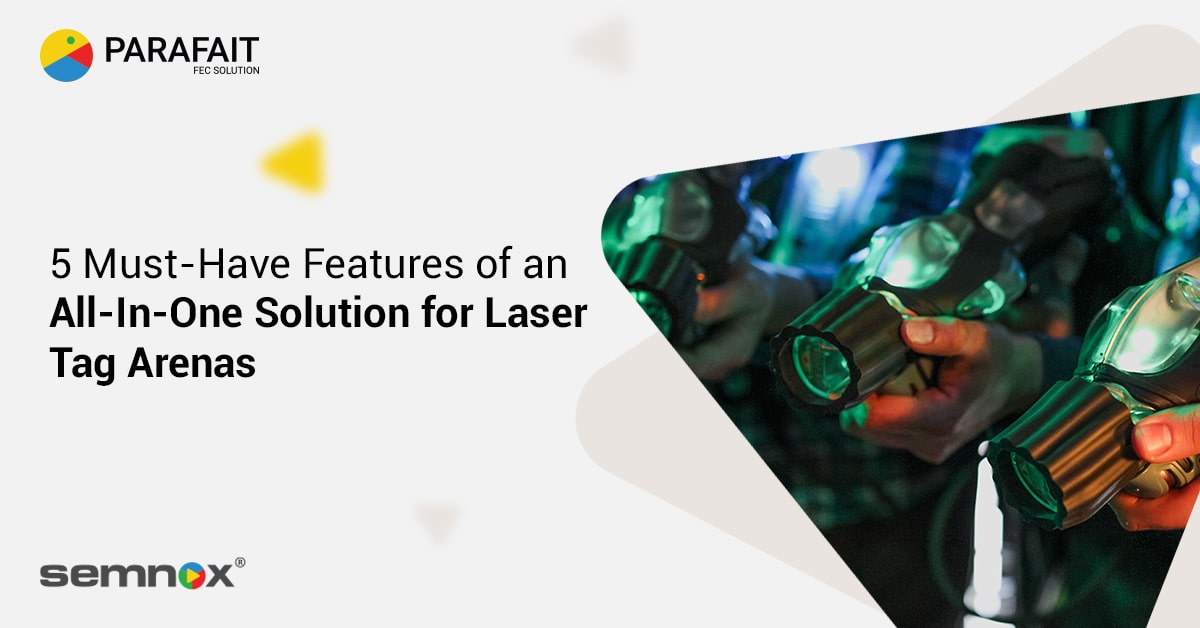 5 Must-Have Features of an All-In-One Solution for Laser Tag Arenas
5 Must-Have Features of an All-In-One Solution for Laser Tag Arenas
What do duct tape, the internet, the jet engine, and laser tag have in common? The answer: they were all originally invented by the military! Around 1980, the US Army developed a system for combat training using infrared beams. This same technology eventually evolved into the laser tag guns and sensor vests that people of all age groups enjoy playing with today!
If you are the operator of a laser tag arena or if you plan to open one, then you must be looking for an all-in-one solution for laser tag arenas. In this blog, we will look at 5 must-have features to look for in software for laser tag games. These features will ensure that you can create a holistic experience for your guests from entry to exit! Let's dive in.
Features of All-In-One Solution for Laser Tag Arenas
1: Multi-Channel Slot-Based Bookings
If you decide to have fixed time slots at your laser tag arena, you will need a solution that allows your guests to make slot bookings at their convenience and on any device of their choice. Your staff at the venue should also be able to book slots for walk-in guests. Additionally, your laser tag booking software should give you a real-time view of the available capacity for each time slot. 
Instead of going with fixed time slots, if you decide to go with time-based billing at your arena, you need software capable of doing that. Time-based billing can be achieved with a Check-in/Check-Out module. There are two ways to bill your guests — in blocks of time or a per-minute charge with varying pricing. This gives your guests the freedom to choose an option that best suits them and play for as long as they want.
2: Laser Tag POS Software
A reliable Point-of-Sale (POS) system is the backbone of any business. A laser tag POS software needs to seamlessly integrate slot-bookings, food and beverage sales, as well as retail or merchandise sales into one channel. Creating combos with time slots plus food and beverage options is a great way to offer maximum value for money to your guests. An integrated Customer Relationship Management (CRM) module that allows you to create VIP membership tiers is a great add-on to a laser tag POS software solution.
3: Automated Timekeeping Solution
Timekeeping at your arena should be a breeze! Relying on manual timekeeping solutions is a thing of the past — automated solutions like the Radian Wristband are the way to go! The whole process becomes as easy as 123:
The guest checks into the arena by obtaining their wristbands from the POS counter and tapping them on the RFID reader at the entrance for validation.
The wristband can be programmed to glow and vibrate with certain patterns when the time is up, so the guest is notified very easily.
The guest checks out by simply tapping the wristband on the reader again and returns it to the staff.
Want to learn more about the Radian Wristband? Reach out to a Parafait representative — email us at sales@semnox.com or call us!
4: Integrated Party/Event Reservations
Teenagers and adults alike love the idea of spending a birthday or special occasion playing laser tag with their friends. To make your venue the go-to party destination, it helps to have comprehensive party booking software as part of your all-in-one solution for laser tag arenas. This software should allow guests to make party reservations easily and quickly, while also including food and beverage options, and making secure online payments.
5: Digital Waiver Management
Laser tag arenas often require waivers to be signed by the players. It's best for arenas to choose digital waiver management instead of pen and paper waivers. This way, guests have the freedom to sign waivers online, at a self-service kiosk, at the Point-of-Sale, or on a tablet. The process of signing and validating the waiver should be quick and easy, without compromising the security of guests' personal data.
Holistic Software for Laser Tag Games
If you are looking for an all-in-one solution for laser tag arenas that has all the features listed above and many more, then let's introduce you to Parafait — a platform of holistic hardware and software for laser tag games!
Jeff Willy, owner of Loveland Laser Tag has been managing operations at his arena with Parafait for 8+ years. "I love that Parafait is always on the bleeding edge when it comes to technology and industry trends," he says.

"We initially chose them because of their early use of RFID technology and integration with our Laserforce laser tag system. In recent times, we desperately needed solutions that would help us adapt to the pandemic, and Semnox delivered with online attraction scheduling and self-serve redemption kiosks. Both of those features have been key to our post-COVID strategy and have also helped us keep staffing costs under control. Thank you Semnox — for not just delivering a key part of our family entertainment center operations, but for supporting it as well as you do!"  
Related: Upcoming Trends of RFID Card Readers for Arcades in 2023!
Want to learn more about how Parafait from Semnox Solutions can transform the way you manage your laser tag arena? Then reach out to a Parafait representative — email us at sales@semnox.com or call us!