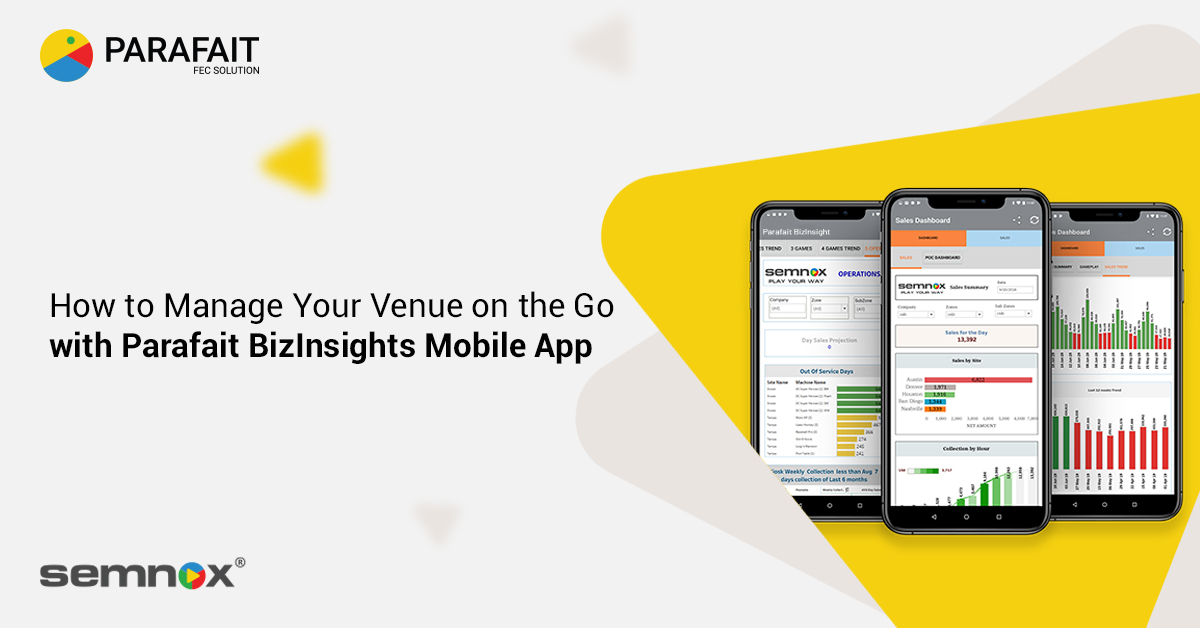 How to Manage Your Venue on the Go With Parafait BizInsights Mobile App
How to Manage Your Venue on the Go With Parafait BizInsights Mobile App
The business of fun is not always fun — being the owner and manager of an entertainment venue can be stressful! There are so many things you need to stay on top of and it can be a bit overwhelming at times. We have seen that for our clients around the world, it's the spreadsheets and data that are a problem — while they reveal important insights into the health and functioning of your business, they are also time-consuming and mentally draining to go through!
To put the fun back in the business of fun and to help you manage your venue with ease, we have introduced the Parafait BizInsights mobile app! This app brings all the essential metrics related to your business to your phone and displays it in an easily understandable visual format. Want to learn more about how this app can help you? Then keep reading!
Dashboards With Essential Metrics to Keep You Informed
You will now have real-time metrics related to sales, game trends, operations, and more available to you in the palm of your hand, no matter where you are in the world! BizInsights tells you what's happening with your business and enables you to take timely action to thwart potential problems and leverage emerging trends.
Sales Dashboard

— will help you keep track of the footfall in real-time and make quick staffing or purchase decisions to make sure your guests have a smooth experience.

Operations Dashboard

— will let you know the live status of all the game machines and assets at your venue, including those that are offline.

Game Trends Dashboard

— will give you an overview of your guest's most and least favorite games, and how much time they spend on each.
Can't find the dashboard that you want? No worries! The Parafait team will build custom dashboards that will give you actionable insights relevant to your business.
Faster Decision Making Using Rich & Varied Visualizations
Parafait BizInsights leverages Tableau — the world's leading visual analytics platform — to convert numbers and statistics into easy-to-process pie charts, bar graphs, trend lines, and more! Most of the information that we process in our real lives is in a visual format, so it makes sense to work with the brain rather than against it. Data visualization makes this happen.
The 'drill-down' feature of the app helps you sort the data on a daily, weekly, and monthly basis — further reducing your decision-making time.
The Venue Management App That Our Customers Love!
Parafait is deployed at 1800+ entertainment venues worldwide and several of our customers have been using BizInsights to manage their venue on the move. On popular demand, we have also made it possible to purchase multiple licenses to the app — with separate login credentials for each license so that you and your business partners can stay on top of things at all times!
The Parafait R&D team is also working to integrate cutting-edge Predictive Analytics into BizInsights in the coming years. The intention is to boost your ability to leverage emerging trends and give you the power to stay ahead of problems at all times. Predictive Analytics makes all this and more possible!
Get BizInsights and leverage this new and innovative way to run your business — speak to our representatives by phone or email us at sales@semnox.com.