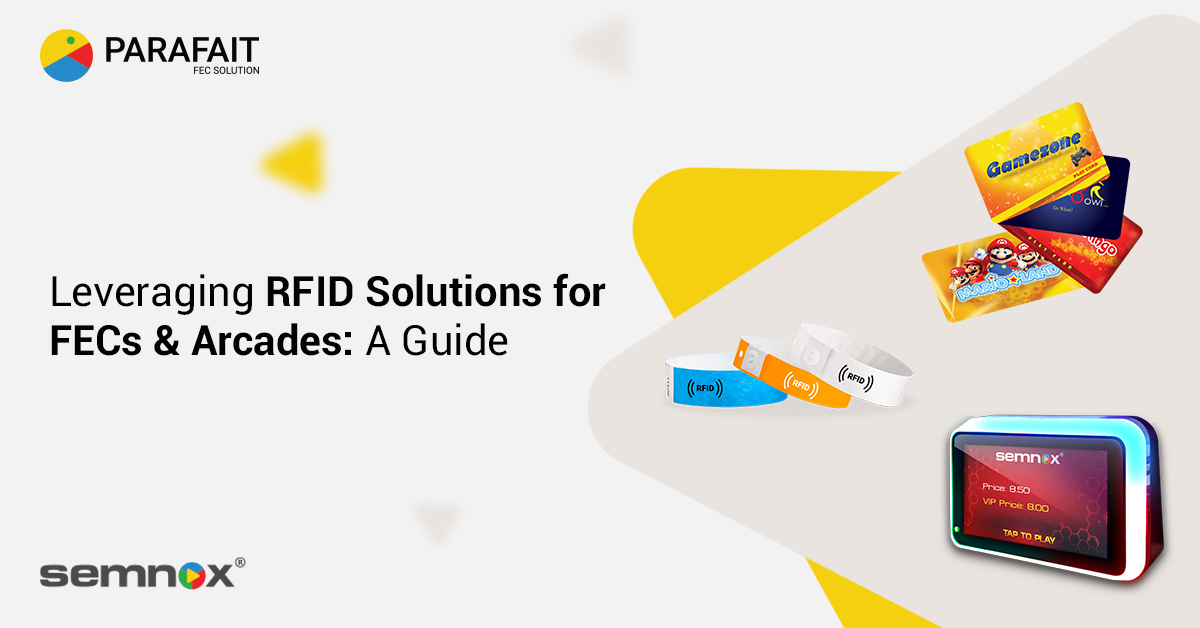 Leveraging RFID Solutions for FECs & Arcades: A Guide
Leveraging RFID Solutions for FECs & Arcades: A Guide
Radio Frequency Identification (RFID) tags have been around for almost 50 years. In that time, they have found wide application in a variety of industries — including tracking packages in supply chains, the identification of animals, and access control in venues of all types.
The entertainment and leisure industry embraced RFID Solutions for FECs and arcades nearly 20 years ago and since then, it has become a cornerstone in creating delightful guest experiences. From entry management to one-tap payments, RFID cards and tags have quickly become a favorite among guests!
Semnox was at the forefront of providing RFID solutions for arcades and Family Entertainment Centers — the first products we launched in 2008 were RFID cards and a 2-line RFID reader, along with software for card sales and recharges.
Since then, RFID technology has come a long way, and so has Parafait. Our RFID solution now includes a variety of RFID tags and a range of RFID readers. In combination with other Parafait products like access gates and self-service kiosks, we have crafted a truly comprehensive RFID solution for the entertainment industry.
If you are looking for RFID solutions online, then you have come to the right place! In this blog, we are going to detail out the advantages and use cases of RFID solutions for FECs and arcades. So buckle up, let's dive in!
Easy Entry Management with RFID Cards & Readers
Your guests have the option to purchase RFID cards at the Point-of-Sale or a self-service kiosk once they get to your venue. But they can also make the purchase online — either through a booking module on your website or on the SmartFun app (which can be customized with your branding). And they can pick up their RFID card once they get to your venue by producing the receipt for their purchase.
Next, they enter the entertainment venue through the access gates by tapping on the RFID reader mounted on the gate — which should take just a few seconds!
The RFID tags are available as plastic arcade cards, ABS wristbands, and key chains. They are:
Reusable

: Made with highly durable materials, the RFID cards can be used over and over again, with no need for replacement!

One-Tap

: Guests don't have to tap the play cards repeatedly on the readers — no matter the ambient conditions, just one tap and they are in!

Brandable

: The RFID play cards are customizable to your brand, helping you increase brand visibility and recall with your guests.

Connected

: If the guest purchases the RFID card at one of your locations, they can use them at other locations of your FEC or Arcade chain as well!
Once they're inside the venue, the real power of RFID technology comes into play. By facilitating cashless transactions across all touchpoints, the play cards and RFID readers work together to create a seamless guest experience!
Cashless Payments with RFID Solutions for Arcades
When you look for RFID solutions for arcades or FECs, remember that you aren't just getting an entry management solution — you're also unlocking the possibility of cashless payments.
Here's how it works — when your guests purchase a play card, they can also purchase a certain number of credits (money that can be spent within the venue) that can be used at your venue. These credits are loaded onto their play cards and when the guest taps the card on the RFID reader at a particular touchpoint, the appropriate number of credits are deducted. The touchpoints could be games or other activities at your venue, as well as food and beverage items or other retail purchases. When credits run out, guests can recharge their cards by visiting the POS counter or do it by themselves at a self-service kiosk or on the SmartFun app.
Here are the benefits of going cashless with RFID technology:
Increased Security

— the tags are not transferable, thus preventing unauthorized access. Going cashless also eliminates pilferage and accounting errors.

See the Bigger Picture

— you can now track spending easily, and gain an understanding of what your guests love and what they don't. Thus, you can make better purchase decisions and delight your guests consistently!

Simplified Redemptions

— if you have a loyalty and rewards program, the points earned by guests at your venue can also be loaded onto the play cards. Guests can then visit a Parafait Klaimprize redemption kiosk to redeem their points for purchases.

Reduced Burden on Staff

— your staff no longer have to deal with the hassle of cash and can focus on what's most important — serving your guests!
While you are in the process of choosing an RFID solutions provider, it's important to find out what kind of RFID readers are offered. That's what we'll look at next!
Different Types of RFID Readers for FECs & Arcades
You can choose from a range of sleek and portable Parafait RFID readers. With 100% wireless communication, the readers can be mounted on the access gates at the entrance and also be used for one-tap payments at game machines or other touchpoints.
Here are the 3 types of Parafait RFID readers that you can choose from:
Basic RFID Reader (Parafait Edge & Parafait Beam)
Both these readers have a sleek design with a customizable 3.5″ color display that supports animation. They offer multilingual support and are FCC/CE certified. Edge and Beam match the vibe of your FEC or arcade with attractive flashing LEDs and a buzzer.
Premium RFID Reader (Parafait Lumin)
Lumin has illuminated edges with 256+ color combinations and patterns that can be set from the Parafait software, as well as 25+ customizable display themes! This FCC/CE certified RFID reader also allows you to display messages in different languages and has built-in audio guidance in multiple languages too!
Flagship OS-Based Reader (Parafait LuminOS)
The flagship RFID reader in the Parafait range is LuminOS — a Linux OS-based wireless reader, perfect for indoor entertainment venues. It comes with a 4.5-inch interactive touch screen display and has built-in dual-frequency support (2.4Ghz and 5Ghz), ensuring steady connectivity at all times. This FCC, CE, BIS certified RFID reader allows multi-gameplay and has a web-service-based interface with the server, enabling over-the-air theme and firmware updates!
"Our guests were extremely quick to adapt from tokens and tickets to cards, utilizing RFID technology and the Parafait Beam Readers," says Jenna Boyo, Owner of Planet Lazer Kelowna. "Installation was made during COVID-19 pandemic so this decision was also based on eliminating excess touchpoints for safety and sanitary reasons."
Guests everywhere are seeking minimum contact experiences and RFID technology enables exactly that! So you can add this to the long list of benefits of this cutting-edge technology!
Before we wrap up, there is one special use case we can look at — RFID wristbands for trampoline parks and other venues that require timekeeping.
Time Management with RFID Wristbands for FECs
For play areas or game zones that involve check-in/check-out based or time-defined activities, Parafait Radian — a lightweight and durable RFID wristband— is the ideal option. The band has an LED bezel with colorful software-controlled patterns which can be customized on the Parafait Web Management Studio (WMS) or the Parafait POS.
Operators can set up the wristband to light up and vibrate with certain patterns at predefined timestamps. The battery on the Radian will keep going for almost 24 hours and the charging port supports multiple bands for added convenience.
The Complete RFID Solution for Arcades & FECs
You now have a comprehensive understanding of everything involved in an RFID solution for Arcades and FECs. Now, if you are looking for an innovative RFID solutions provider, you need not look any further — Semnox has you covered!
Our Parafait RFID solution has everything you need — a variety of RFID tags, a range of RFID readers, supporting software to manage it all, and complementary solutions like Point-of-Sale, Online Bookings, Self-Service Kiosks, Access Gates, and more! So why bother with the hassle of dealing with multiple different vendors when you can get the complete solution in one place!?!
Reach out to our representatives right away — email us at sales@semnox.com or call us!