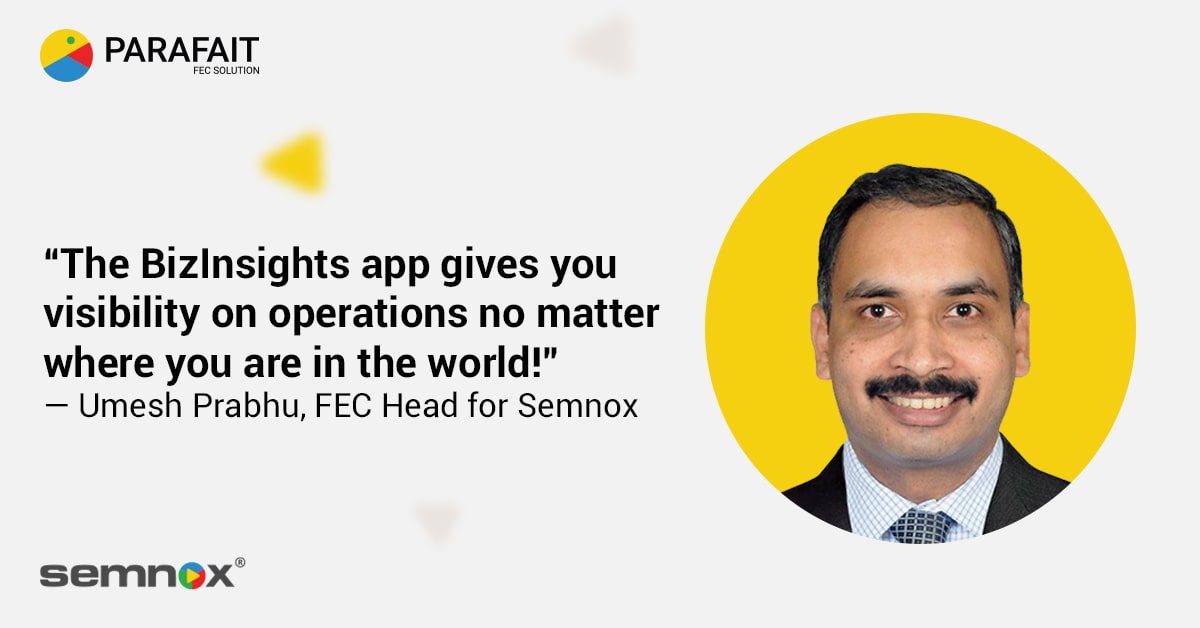 "The BizInsights app gives you visibility on operations no matter where you are in the world!" says Umesh Prabhu — FEC Head for Semnox
"The BizInsights app gives you visibility on operations no matter where you are in the world!" says Umesh Prabhu — FEC Head for Semnox
BizInsights — a cutting-edge mobile app — was made available for Parafait clients recently as an add-on to the Parafait venue management system. We sat down with Umesh Prabhu, Head of FECs for Semnox to speak about the app, how clients are using it, and the road ahead.
---
Q: What is the primary use case for the BizInsights app? What problem does it solve for your clients?
Parafait BizInsights is designed to allow operators to manage their entertainment venue operations on the go via their phones. Some of the key Parafait dashboards are available within the app, including Sales, Operations, Games, and Sales Trends. When you have these dashboards at your fingertips, you get visibility on operations no matter where you are in the world, without needing to pull out your laptop or sit at a desktop. Our clients are already using BizInsights to spot emerging trends and get ahead of potential problems, just by keeping tabs on their venue using the app.
Q: How is information presented within the app? Won't it be difficult to see data on a small phone screen?
Yes, we have taken that into consideration. We have leveraged Tableau, which is the world's most powerful data analytics platform. The data is presented in easy-to-understand graphs and charts. The human mind processes visual data much faster than text and numbers, so if you are using BizInsights, you will be able to interpret the data quickly. And you will be able to make decisions quickly too.

Q: You mentioned the various dashboards available. But what if a client needs custom dashboards?
The Parafait team will develop custom dashboards as required for your particular business. We have several clients who have already requested these and we have designed them as per their requirements.

Q: Is the information presented on the app updated in real-time? How does this work?
The information on the app is updated in near-real-time through cloud-based data sync. So operators instantly get to know what's happening at their venues.

Q: Are there situations where customers have noticed problems because of the information on the app?
One common problem that our clients have noticed is when game machines are not earning any revenue. This mostly happens when the machine has been out of service and the technicians have not done their job. The status of the machine is visible on the app, and it allows operators to follow up with the technicians to quickly get it back online. Operators can also track kiosk performance, kitchen performance, and much more!

Q: What are the prerequisites to get Parafait BizInsights?
The only condition to get Parafait BizInsights is that you need to be using the Parafait venue management system, and you need to be subscribed to Semnox Cloud Services.
Q: What is in store for the future of the app?
The power of data gets unlocked over time as we gather more and more of it. Just like forecasting the weather, it is possible to predict the expected business for an entertainment venue, and use this forecast to align the staffing plan and reduce costs. The Parafait R&D team is currently working on this and we are piloting it with some of our clients.
---
Do you want to stop micromanaging your entertainment venue and always stay a step ahead? Then Parafait BizInsights is for you! Reach out to our representatives — email us at sales@semnox.com or call us now!