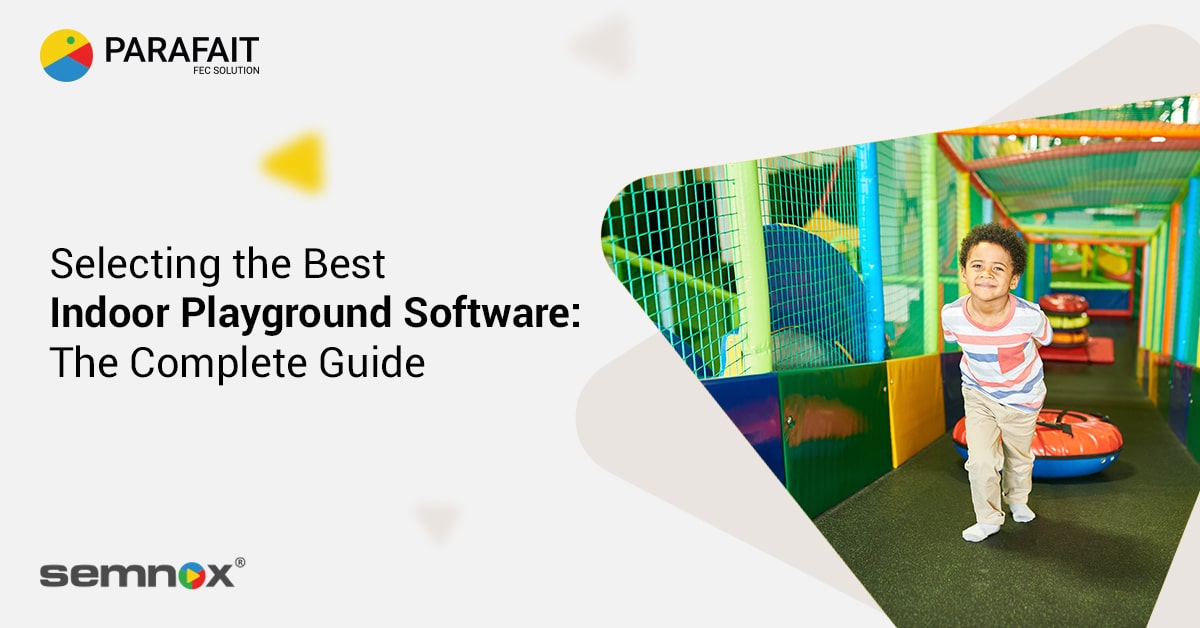 Selecting the Best Indoor Playground Software: The Complete Guide
Selecting the Best Indoor Playground Software: The Complete Guide
Indoor playgrounds have emerged as one of the best ways to get kids to engage in physical activity while having fun! These playgrounds can be of various sizes — they might be an entire venue or they might occupy a smaller space within a larger venue like a restaurant or shopping mall. The latter is a popular option for keeping kids occupied while their parents' shop, dine, or socialize.
If you are thinking of setting up a playground, then this blog will show you how to select the best indoor playground software. Our goal is to help you create a safe and enjoyable experience for kids, as well as a seamless experience for their parents. Let's check in!
A Seamless Check-in & Check-out Experience
Parents or guardians don't want to waste time with a lengthy check-in or check-out process. And kids, being kids, will be impatient to start playing! So it goes without saying that your indoor playground software system should facilitate a seamless check-in and check-out experience.
Additionally, parents might want to leave their kids at the playground for just 20 minutes or for over an hour. This is why you must look for software that allows you to bill customers based on time spent. It's also beneficial to have the flexibility to charge over time spent — in blocks of time or a per-minute charge with varying pricing. For example, you have the option to set a price of $5 for every 20 minutes. Alternatively, you can charge $0.5 per minute, and then decrease the price to $0.4 after 60 minutes.
To ensure that parents have peace of mind when they leave their kids at the playground, the software should allow you to quickly capture key personal details — including a photo for easy identification of the child. Some nice-to-have features to look for would be the option to provide free playtime as part of the Welcome Offer and the option to create combo packs with food & beverage options for the kids!
Are you looking for an indoor playground software solution that can manage capacity and time-based billing via Check-in & Check-out module? Then Parafait is the answer! To learn more, reach out to our representatives — email sales@semnox.com or call us!
Radian Wristband for Automated Timekeeping
While reliable software is an essential part of indoor playground operations, you also need an effective timekeeping solution. Instead of relying on fixed time slots, different colored wristbands, and human timekeepers, you can choose to automate timekeeping using the Radian Wristband from Parafait.
This lightweight and durable wristband runs on a rechargeable Lithium-ion battery and can be set up to notify guests through light and vibration patterns. The Radian has an LED bezel that glows bright, making it easy to identify the individual kid in the group.
A Comprehensive Indoor Playground Software
Managing an indoor playground requires several different modules working together in harmony. Apart from the ones already discussed above, you should look for:
Point-of-Sale: Your indoor Playground POS should not be a bottleneck where queues build up! Cashiers should be able to process transactions quickly and allow guests to check in seamlessly.
Online Booking: Guests are increasingly looking to make purchases online, which is why you need to have a robust kids' indoor play ticketing software system in place. This software should have integrated secure payment options and guests should be able to make purchases quickly and easily.
Party/Event Reservations: Indoor playgrounds are the perfect destination for birthday parties! An integrated party booking software is a key component of comprehensive indoor playground software.
Waiver Management: Compliance with local waiver laws is something that indoor playgrounds have to take into consideration. This is why it helps to have integrated digital waiver management included in your indoor playground management system. Guests should ideally be able to sign the waiver online, including when they are completing a party booking.
Analytics & Dashboards: Reporting is an essential part of business operations and indoor playgrounds are no exception. Having the essential metrics available to operators, even when they are on the move, can help them make informed decisions quickly. 
Related: Upcoming Trends of RFID Card Readers for Arcades in 2023!
Are you looking for comprehensive indoor playground software? Then Parafait from Semnox Solutions is the answer! This holistic solution meets all of the above requirements and more! Reach out to our representatives today — email sales@semnox.com or call us!