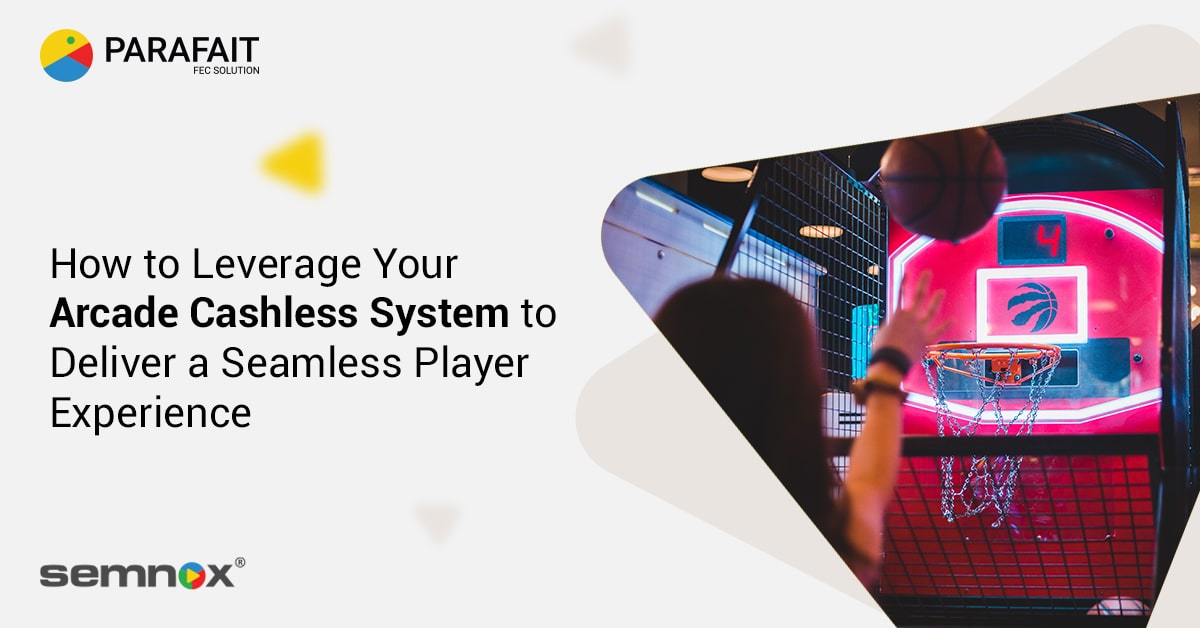 How to Leverage Your Arcade Cashless System to Deliver a Seamless Player Experience
How to Leverage Your Arcade Cashless System to Deliver a Seamless Player Experience
Atari launched Pong — the first smash-hit arcade video game — in 1972. Since then, amusement arcades have come a long way! Games like pinball, air hockey, claw cranes, and bike and car racing have become childhood staples for kids across the world. 
The technology powering arcades has evolved alongside the venues themselves. While coin-operated machines were the norm in traditional setups, arcade cashless systems are the go-to option for most modern arcades. These systems streamline the player experience from entry to exit, enabling one-tap payments as well as a seamless redemption experience.
Parafait has been at the forefront of arcade cashless systems since 2008. In this blog post, we show you some unique ways in which you can leverage this system to deliver a seamless player experience. But first, let's take a quick look at the components that make up such a system.
What Are the Parts of an Arcade Cashless System?
An arcade cashless system has 2 essential components — an arcade debit card system and arcade card readers.
Debit cards: These are playing cards that are loaded with money (also known as credits or entitlements). Players can use these cards to enter the venue and to pay for games, food and beverage items, and other purchases within the venue. The cards are built on tap-to-play RFID technology. 
Card Readers: These readers can scan the RFID cards and deduct a specific amount from the card for the activity that the player is paying for. There are a variety of card readers available — like the Parafait range of readers which includes Beam, Edge, and Lumin, as well as Parafait LuminOS — a powerful OS-based reader for multiplay features in arcades. 
Of course, some more modules can be included in an arcade cashless system:
Online Booking & Recharge: So that players can purchase cards and recharge them online, on any device, at their convenience. This can also be achieved with a dedicated mobile app like SmartFun from Parafait.
Self-Service Kiosks: So that players have yet another option for buying and recharging cards on their own at the venue, instead of visiting the POS counter and interacting with staff. The redemption experience can also be automated with a redemption kiosk for arcades.
Now that you are aware of the key components of an arcade cashless system, let's look at how you can use it to deliver a seamless player experience!
Related: Key Updates to Parafait's Family Entertainment Center Solutions with Fireball 2.130.0
Creating a Cashless, Contactless & Curated Player Experience
The most obvious advantage of a cashless system is that it serves as a contactless technology at indoor arcade facilities. Players can simply tap and start playing, carrying the same RFID card or tag that they purchased on their first visit to your arcade. No more dealing with the hassle of coins and tokens! Considering the fact that it's children who frequent arcades the most, this technology is just perfect. 
But there is a hidden benefit that most operators aren't aware of — your cashless system can help you issue pre-programmed credits or money to players!
Here's an example — let's say you want to create a weekend pass. When the player purchases the credits, you can pre-define it in such a way that it can only be spent on weekends and not on weekdays! 
You can also identify off-peak hours and create a 'happy hours' offer with entitlements that can only be spent during those hours. Additionally, you can create special offers and upsells too — the possibilities are limitless!
Similarly, you can define an end date by which the credits on the arcade cards need to be spent, after which they expire. This gives you ample opportunities to create a curated player experience and maximize the utility of your arcade! 
The Ultimate Arcade Centre Management Software
An arcade cashless system works best when it's part of a more comprehensive arcade center management software. Semnox's Parafait is one of the most trusted systems in the world, presently powering 1800+ venues across 50+ countries! Parafait includes a diverse set of connected modules including inventory and redemption management, arcade POS, arcade CRM, and more! 
"We decided to go cashless at one of our popular locations during the lockdown and we are very happy to be associated with Semnox!" says Charles Holland, owner of Alexandra Gardens, an arcade with 150+ game machines in Weymouth, the UK.
"Things were not easy given the situation, and yet their team was able to deliver the project on time! Ours is not the easiest setup as we wanted to allow customers to use both coins and cashless cards, with the ability to switch between paper and electronic tickets. I am very happy that we were able to achieve what we intended with excellent support from Semnox." 
Related: Leveraging RFID Solutions for FECs & Arcades: A Guide
Are you looking to implement an arcade cashless system at your venue? Speak to a Parafait from Semnox Solutions' representative — email us at sales@semnox.com or call us today!